Funds will Help College to Address Pressing Workforce Need: Nursing Shortage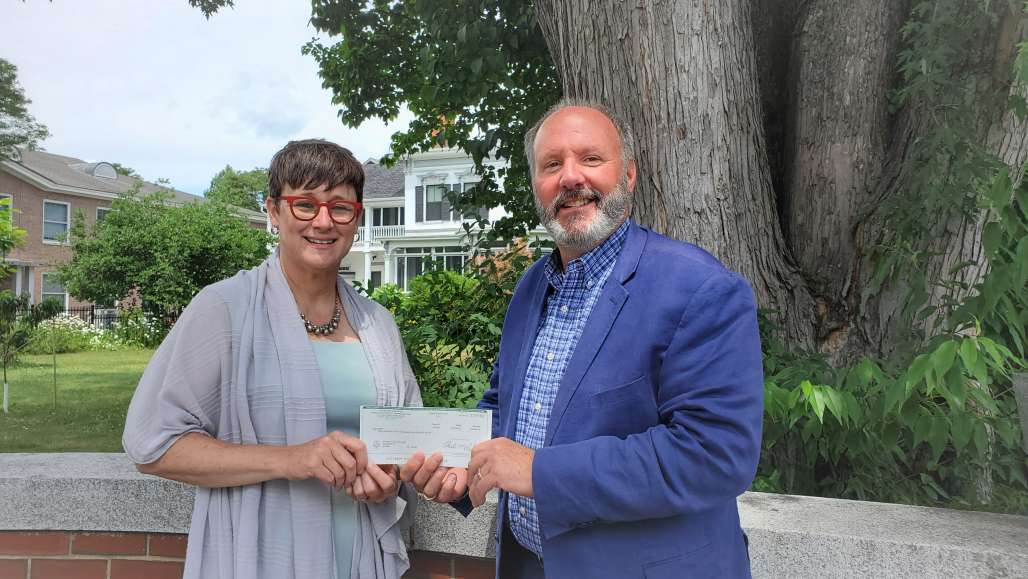 A second and final round of American Rescue Plan Act (ARPA) funding has arrived for Cheshire County, and a portion of the several million dollars in federal aid will help to address a pressing workforce need — a nursing shortage.
The funds are part of federal assistance to help to mitigate effects of COVID-19, including replacing lost revenue, supporting essential workers, and investing in targeted infrastructure.
Cheshire County received more than $7 million in the first tranche, last summer, and a similar amount flowed in this June. County Administrator Chris Coates presented Keene State College President Melinda Treadwell with a check for $250,000 as part of the overall amount.
External, or non-County distributions, Coates noted, were approved by the County Commissioners and the Cheshire County Delegation. Coates noted that sustaining the region's healthcare systems, workforce and all the systems that keep essential services afloat is paramount.
"Where the money is going was based on a sense of need for our community, and for maximum impact." Coates said. "A strong Keene State-River Valley Community College partnership, for example, is a responsive way to meet a desperate need on the nursing front."
The much-needed funds, Treadwell said, will make possible the establishment and operation of a formal Workforce Pathways partnership among Keene State, River Valley Community College, and regional healthcare employers.
"More needs to be done to be able to cross-match graduates to jobs," Treadwell said. "Working with River Valley, we can deliver a broader spectrum of nursing credentials. We want the first talent our employers see to be our trained students."
Alfred Williams, president of River Valley, which operates on the Keene State campus, lauded the County's good work to secure the funding.
"Partnerships between River Valley and Keene State have allowed River Valley to bring the LPN program to Keene, graduating around 16 LPNs in the area per year, Williams said. "This has caused an uptick in our RN program, allowing us to graduate a class each year. This funding will play a pivotal role in the partnership in continuing this pipeline and support LNA programming."
The ability to expand LNA offerings in Keene is a critical piece of addressing this workforce need in a meaningful way, Williams said.
Treadwell said Keene State's history of its students being hired by companies where they interned or conducted summer research is a big plus in forming immediate and lasting connections. Some college academic programs, she said, include credit-bearing internships as part of the degree.
First thing, funds will be used to conduct a needs assessment as well as create a position to support students' internship and clinical placements, Treadwell said.
"This can't be a one-off," Treadwell said. "This work needs to be the next generation of a long, purposeful effort to continue to unlock the clinical bottlenecks and make healthcare where we live everything it should and needs to be."
Cheshire County's Maplewood Nursing Home in Westmoreland has not been immune to the nursing shortage. In fact, it has had to limit admittance despite room availability because of staffing challenges, Coates said.
"Maplewood is looking forward to a stronger partnership with Keene State College, River Valley and their students, said Kathryn Kindopp, Maplewood administrator. "The future of long-term care depends on the development of health care professionals in our community. We support and encourage training for licensed nursing assistants, licensed practical nurses as well as registered nurses."
Related Stories