October 11: Community Service Day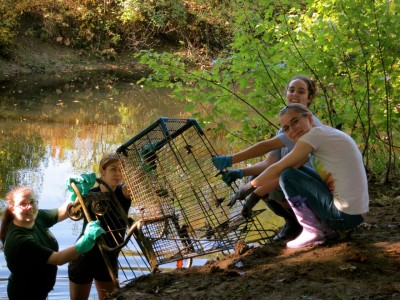 Cleaning the barn at a dairy farm. Organizing the library at a social service agency. Picking up trash in the Ashuelot River or along the Keene bike path. Stacking wood for a nonprofit food bank. Tidying the offices of a suicide prevention organization.
Keene State students, faculty and staff will fan out across the city of Keene and the greater Monadnock Region to take on these and other volunteer tasks on October 11. It's all part of the second annual Community Service Day, a time for the whole campus community to roll up those proverbial sleeves and live out, in one concentrated burst, the focus on service that is woven through the academic and community life of the College.
Last year's successful event brought together more than 200 volunteers who fished shopping carts from brooks, mowed, weeded, and pruned lawns and gardens, and cleaned and painted offices to help out a number of college partners, mostly area nonprofits and environmental and social service agencies. Together, they put in 696 hours.
"KSC Community Service Day provides an opportunity for our faculty, students, and staff to collaborate with local community organizations to complete important short-term projects – projects that help heat homes, create welcoming environments for our partners to deliver services, and improve the safety and look of our waterways," says Jessica Gagne Cloutier, the College's coordinator of community service. "It's an awesome day, and just one of the many ways in which KSC partners with the organizations across the Monadnock region."
This year, as of the end of September, there are 219 volunteer slots at eight locations, though more organizations may sign up before the big day. The event will also include a photo contest, with gift cards going to the photographers who take the pictures that best capture the spirit of the day.