NAfME and ACDA Mock All-State Audition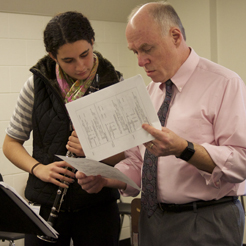 By Danielle St. Amand (public relations coordinator of NAfME) and Amanda Williams (public relations coordinator of ACDA)
The KSC chapters of the National Association for Music Education (NAfME) and the American Choral Directors Association (ACDA) hosted the first annual Mock NHMEA All-State auditions to help area high school music students prepare for the real thing: the New Hampshire Music Educators Association (NHMEA) All State Music Festival, where they audition for a spot in an honors ensemble. This "mock" audition allowed high school students to not only go through the audition process, where they must perform a prepared piece as well as basic technical exercises such as sight-reading and scales, but also to receive feedback and advice from Keene State music faculty. The faculty worked with the students to improve their audition material and instill confidence before their All-State audition.
Professors Jim Chesebrough and Craig Sylvern volunteered to work with the students.
"It is wonderful to see these high school musicians working towards the goal of making the New Hampshire All-State ensembles," Dr. Chesebrough commented. "Working with them reminded me that, whether they make the ensembles or not, they will be better musicians for the experience."
"Thanks to NAfME and ACDA for organizing the mock auditions," said Dr. Sylvern. "I think it was a good opportunity for the students to get a fresh perspective on their playing with regards to their technique, musicianship, and stage deportment."
Overall, this event was a great success. The students showed much improvement throughout the day, and many were accepted into their all-state ensembles.
Related Stories