Keene State Welcomes New Faculty Members in Seven Academic Programs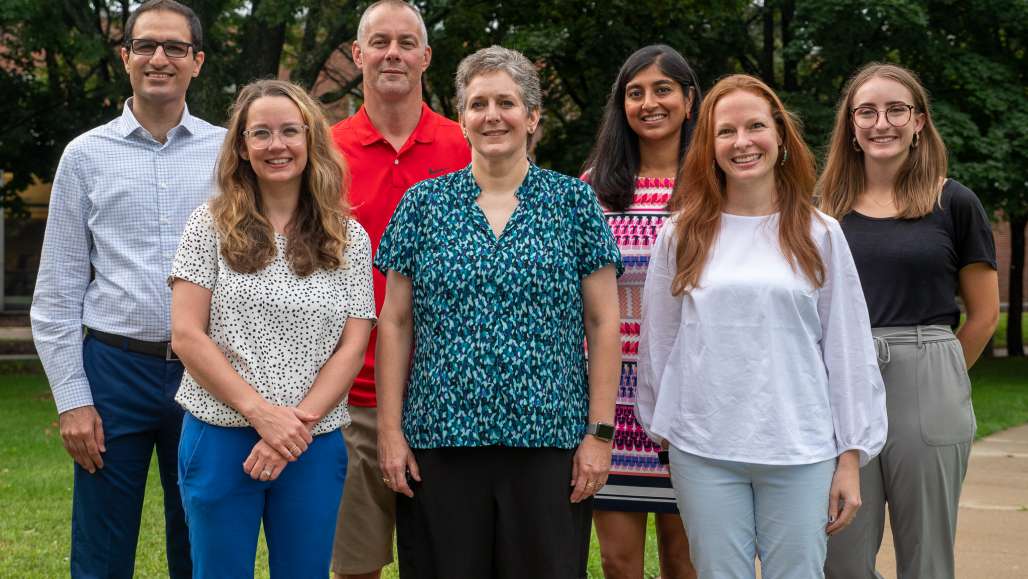 As the fall 2021 semester is beginning, seven new faculty members are also joining the college to teach high-demand programs. These new professors bring a wealth of teaching and professional experience to their students in the areas of architecture, business management, education, journalism and public relations, nursing, human performance and movement science, and psychology.
We are pleased to announce the following new faculty members:
Mohammadmehdi Danesh, Architecture: Mohammadmehdi Danesh earned his associate degree in Architecture from the Hafez For-Profit and Non-Governmental University in Iran. He received his bachelor's degree in Architecture from Zabol University, and his master's degree in Architectural Engineering from Iran University of Science and Technology. He is completing his PhD in Architecture from Texas A&M. He brings his architectural background including experience with projects for residential buildings and interior design, and also research with a clear interest in sustainability.
Saira Fida, Esq., Business Management: Saira Fida received her bachelor's degree and a Master of Accountancy from the Fisher School of Accounting. She earned her Juris Doctor degree from the Levin College of Law, University of Florida. While Saira has broad experience in data analytics, tax law, environmental law, and all manner of accounting, she also has experience teaching at the undergraduate level, having served as a lecturer at the University of Miami.
Dr. Erica Holyoke, Education: Dr. Holyoke earned her bachelor's degree from Tufts University in Child Development, and Peace and Justice Studies, as well as her teacher certification; she received her Master of Education from the University of Texas at Austin in Multicultural Special Education; and her PhD in Curriculum and Instruction, Language and Literacy Studies from the University of Texas at Austin. She has taught extensively in elementary public schools, and she has served as district lead literacy coordinator and as assistant principal and special education coordinator. Dr. Holyoke also brings undergraduate teaching experience. Her dissertation, Literacy, Justice, and Love in Early Childhood Teaching and Teacher Preparation reflects her extensive commitment to literacy education.
Dr. Kimberly Lauffer, Journalism, Multimedia and Public Relations: Dr. Lauffer holds a bachelor's degree in English and a master's degree in Journalism from Michigan State; and she earned her PhD in Mass Communication from the University of Florida. Dr. Lauffer's experience in journalism, mass media, and public relations is extensive, having served as a writer, editor, reporter, strategist, and photographer for magazines, digital and print, events, institutions, and newspapers. Dr. Lauffer also has extensive teaching experience at the undergraduate level including service at Towson University, the University of Florida, Bowling Green State University, and Ball State University.
Dr. Kimberly McKane, Nursing: Dr. McKane earned her bachelor's degree in Nursing from Rivier University, and a Doctor of Nursing Practice from Rush University School of Nursing in Chicago. Dr. McKane has extensive experience working in Pediatric Intensive Care units including service at Boston Children's Hospital and John Hopkins All Children's Hospital, St. Petersburg Florida. In addition to her experience as a practitioner, she is a committed educator helping to train nurse practitioner students, and providing education on critical care topics.
Martin (Marty) Testo, Human Performance and Movement Science: Martin Testo combines his experiences as an educator, coach, and education leader to join Keene State as a clinical assistant professor. He earned his bachelor's degree in Physical Education from Keene State and his Master of Education from Springfield College. He has taught undergraduate courses in Sports and Recreation Administration Principles of Coaching, and Administration for Physical Education. Marty served as athletics and activities director for Leland and Gray Union Middle/High School, head varsity baseball coach at Leland and Gray; and as head coach for the Keene Swamp Bats from 2004 to 2012.
Dr. Shailee Woodard, Psychology: Dr. Woodard received her bachelor's degree in Psychology from Pacific Lutheran University, and her master's degree and PhD in Experimental Psychology from the University of Montana. Her articles cover wide-ranging topics such as socio-ecological influences on political ideology, the positive relation between child's play and attribution of human characteristics to non-human things, measuring the perceived threat of COVID-19, socio-ecological influences on political freedom, well-being, and societal confidence, and more.
Related Stories