Keene State among signing sites for New Hampshire Card for Ukraine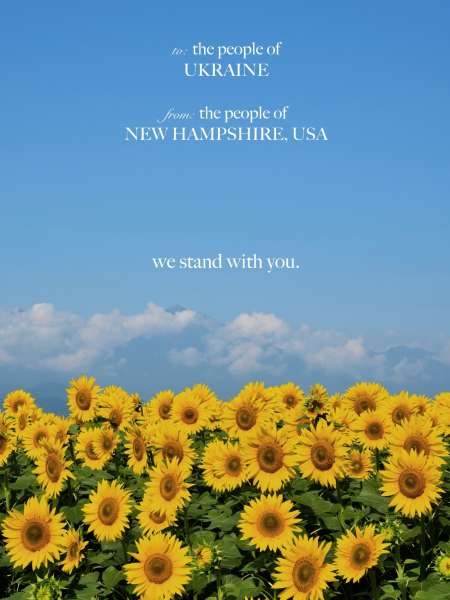 Keene State College will host the New Hampshire Card for Ukraine on Monday, March 28, on the first floor of the Student Center, near the college bookstore.
The college community and the public can sign messages of love and support for the people of Ukraine caught in the deadly conflict in Eastern Europe, those forced to flee, and families that have lost loved ones.
The card is made available by a Seacoast Region family that first made this form of support available following the Sandy Hook school-shooting tragedy 10 years ago.
The card signing at the college is from 10 a.m. until noon. The card will then move to the Keene Recreation Center and be available to sign from 1 p.m. until 2 p.m. Other scheduled sites and dates include:
Sunday, March 27, Mall of N.H. in Manchester, 1-3 p.m.

Saturday, April 2, Mall at Fox Run in Portsmouth, TBD
Details for signing events in Concord and Conway will be announced, according to the Conant family of Hampton Falls.
Those coming to campus to sign can park in the Commuter Lot, 24 Madison St.
Jim Conant explained the sentiment behind his family's idea.
"The images of this war are haunting, and it's easy to feel helpless," he said. "There are several ways to show support to the people of Ukraine, and one way our family is showing our support – and the support of the people of New Hampshire – is with this giant card."
Conant said the response to the Sandy Hook card-signing was beyond what they could have imagined.
"We actually ran out of space for signatures," he said. "We're prepared for another incredible turnout for this card."
It is now more than a month since Russia began its unprovoked military aggression in Ukraine. More than 3.6 million people – women, children and the elderly mostly – have fled Ukraine to border countries. More than 1,000 innocent Ukraine civilians have died in the war, according to the United Nations.
Related Stories