Keene State Biology Alum, Douglas Ericson, Gets a Broad Perspective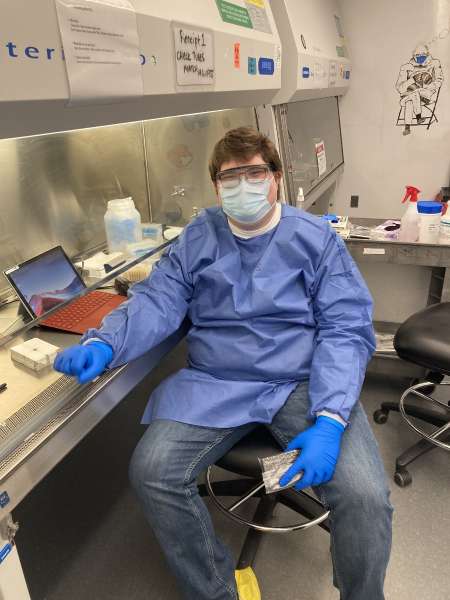 Douglas Ericson '19 majored in biology at Keene State College, and, after a wide-ranging job search, landed a job in 2020 at the prestigious Broad Institute in Cambridge, Mass., working on a lab team doing "small COVID" testing, meaning small batches (1 to 20 swabs at a time). Doug's team extracts viral RNA from each sample and runs it through sensitive tests to determine the amount of viral load. Broad, a research institution affiliated with MIT and Harvard, is where Keene State sends all of its COVID-19 tests, several times each week.
Doug came to Keene State in 2015 after high school in Franklin, NH. Undecided about his major, he thought about general science, then recognized that biology was his calling. "I learned so much about lab practices and skills through all of my classes at Keene State," Doug said. "I was able to work with three different professors – in astronomy, organic chemistry, and molecular biology – on their research projects. This got me comfortable in the lab and I was able to highlight those experiences on my resume." It also caught the attention of the Broad Institute recruiter on LinkedIn.
What does the future hold for Doug? "I know I want to work in a lab, maybe pursue a master's degree in epidemiology or microbiology. I'm very interested in working on CRISPR. It is so mind-blowing." Last year's Nobel Prize in Chemistry went to two researchers, Emmanuelle Charpentier and Jennifer Doudna, for their significant work on the gene-editing technology. It is a focus at Broad Institute as well.
Doug recently participated in a Biology Alumni Career Panel organized by Professor Karen Cangiaolosi, along with his fellow Class of 2019 grad and Broad colleague Andrew Fuhs. "I'm happy to help anyone who is thinking about a career in biology," Doug says. "Message me on LinkedIn and we can talk."
Related Stories