Katrina Hodgson '06: Toned Up!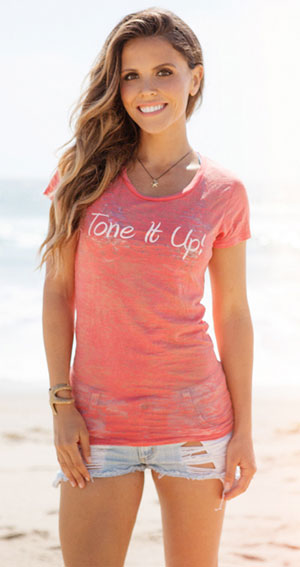 When Londonderry, NH, native Katrina Hodgson '06 came to Keene State to study health science, she didn't consider herself to have much business savvy—or so she says. But during her senior year, she teamed up with some computer science students to create a website where she could share her love for sports nutrition and encourage students to eat a healthy diet. Their efforts were remarkably successful. "The site was getting hundreds of clicks every week! We thought it was the coolest thing and we ended up being awarded an Academic Excellence Award for the site," Katrina recalled. "I'll never forget that! It made me feel like I could really dream something up and create it and be recognized for it. As soon as I graduated, I wanted to start a website and brand."
Which is just what she did. Not long after graduation, Katrina moved out to California, where she met fellow fitness trainer Karena Dawn. The two became friends and business partners, and started making a series of online workout and nutrition videos designed, said Katrina, as "a place where women could find fun workouts, delicious, healthy recipes, and support one another in their goals and aspirations." The website, ToneItUp.com, became immensely popular, receiving over 1.8 million unique visitors a month and over 600 twitter mentions per hour. So popular, in fact, that the Bravo TV channel has created a new series called Toned Up which offers a behind-the-scenes look at Katrina and Karena's fitness business. Toned Up airs Thursdays at 10 p.m., with a one-hour series finale on February 6.
And Katrina credits KSC's Health Science program and the wealth of resources at the Spaulding Gym for giving her the professional and scientific background she needed to launch her career. As soon as her parents dropped her off as a freshman, she headed to the gym to check it out. "It was three stories equipped with everything I needed to keep me motivated for my Health Science major. The first person I met there was Christine Miles, Bodyworks Manager and Group Fitness Coordinator, who really made the biggest difference in my college career," Katrina remembered. "As part of the Health and Fitness major, I had the opportunity to work at BodyWorks to train students, create workout programs, give fitness assessments, and become the senior fitness specialist," Katrina explained. "By the time I graduated, my resume already had a few years of experience on it, which helped me become a master trainer right away at Boston Sports Club. Keene really prepared us to create our own careers."
"I loved Strength and Conditioning with Sarah Testo [recreational athletic coordinator—assistant BodyWorks manager]", Katrina said. "I still use everything I learned from her! It's funny how often we think of our professors after college and how much we use later on in our careers. I also loved sports nutrition, which led to the core of our business—our Tone It Up Nutrition Program which includes on-the-go recipes and college tips."
But maybe most of all Katrina loved teaching women how to work out. She loved teaching exercise classes at the Rec Center and later at Boston Sports Club. "Classes are a great way to give more than one person a workout in an hour," Katrina said, "and to market yourself as a trainer. I would gain a few clients every week from classes. Doing videos gives me that same ability—I know I can upload a video and give even more women a workout. Videos also helped me gain recognition in the fitness industry." It wasn't long after she'd moved to California and met Dawn that the duo created a line of DVDs as Jane Fonda's New Faces of Fitness for Target. "It was really surreal and I'm still in awe," Katrina said. "Fast forward to 2014, and we are independently producing our videos and creating workouts for our favorite magazines."
Her advice for students who aspire to a career in fitness training? "Use the resources that are provided for you. If you can't find them, ask for them! As a trainer, document progress, always have empathy, be a good listener, and give your clients a fun experience each time they workout."
Related Stories