Julio Del Sesto Recognized for Engaging Students, and His Caring Counsel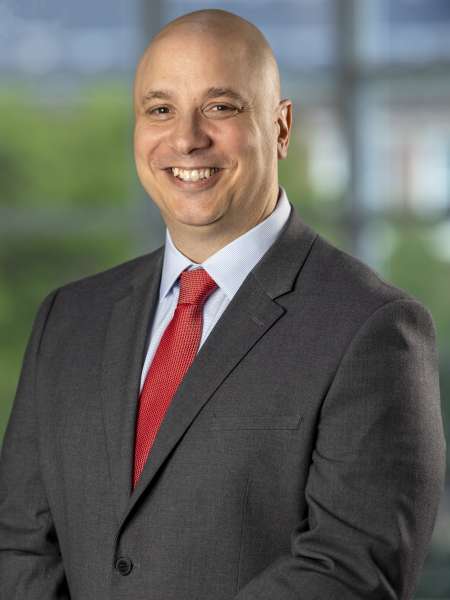 Keene State College presented Julio Del Sesto, Professor of Journalism, Multimedia and Public Relations, with its 2022 Distinguished Teacher Award during a Community Breakfast on campus August 22. The award recognizes excellence in teaching, encouragement of independent thinking, rapport with students, and student advising. Del Sesto is the 52nd recipient of this high honor.
Student-nominated candidates must be full-time, tenure-track faculty with at least three years' teaching time at Keene State. The previous five honorees are Katherine Tirabassi, English; Vince Ferlini, Mathematics; Denise Junge, Chemistry; and Rebecca Davis-Kelly, Graphic design.
Del Sesto, a 2007 Keene State graduate, is also the new department chair, replacing Chad Nye, now the college's Associate Dean of Academic Affairs.
Students who nominated Del Sesto describe his "easy going manner," his ability to connect and engage with them on a "real" level, and his love and passion for visual storytelling.
Said one student in a nomination letter: "There is a lot to say on Julio's behalf, because he has done so much for the students who he has worked with, whether they know it or not. He works day in and day out for us, and I have never once doubted the degree to which he cares for students' learning, success, and well-being. In an era of increasingly polarized responses to higher education and how professors deal with students, Julio Del Sesto stands out as a beacon for those who struggle, those who do not know their path, and more beyond that."
Del Sesto called the honor overwhelming and humbling.
"This is not something that I ever thought of receiving," he said, "look at who's won: Ockle Johnson, Anne-Marie Mallon, Pat Dolenc, Pru Cuper, Hank Knight, to name a few. These people are superheroes to me."
"I think the award itself reflects what Keene State College is and what makes it special – compassion, teaching, and fostering student success. It is confirmation for me that I am on the right track, and that I am living up to the college's – and my own – expectations."
A community-college transfer, Del Sesto arrived at Keene State as a junior. He stayed on campus after graduating, as a contract lecturer and adviser to the college's student-run newspaper, The Equinox, a role he continues in today.
An opportunity to apply for a tenure-track position in the Journalism Department meant earning an advanced degree, so he spent the next two years teaching full-time and studying in a Master of Fine Arts program at Academy of Art University.
Julio and his wife, Katie, are parents to three children. Away from teaching, he is a gymnastics coach, a performance guitarist, and creator and executive producer on "Sidetrek," an occasional outdoor adventure documentary series airing on N.H. Public Television.
"Without my wife and my children supporting me, without the people that have mentored me, I could never be the teacher I want to be," he said. "I certainly would not have received this honor. And without my students, and what they have taught me in return, none of this is possible. I cannot thank them enough for this honor."
Keene State College has the only stand-alone, four-year journalism degree program in the University System of New Hampshire, and one of the few such programs in New England.
In 2022, amid a still-lingering global pandemic, the Equinox's student staff garnered 23 awards from the Society for Collegiate Journalists. Rodger Martin, a lecturer in the journalism department, is the other faculty adviser to the student-run newspaper.
"Julio distinguishes himself as a teacher, advisor and mentor in a truly student-centered way," said Nye, now Keene State's Associate Dean of Academic Affairs. "Julio spends countless hours making himself available and accessible to students. His guidance and mentorship have shaped individual lives and have started journalistic careers that will serve countless others in the years to come."
As part of the award, Del Sesto will be among college faculty and administration addressing students at commencement.
Related Stories