Journalism Graduate Makes a Name for Herself in the News Industry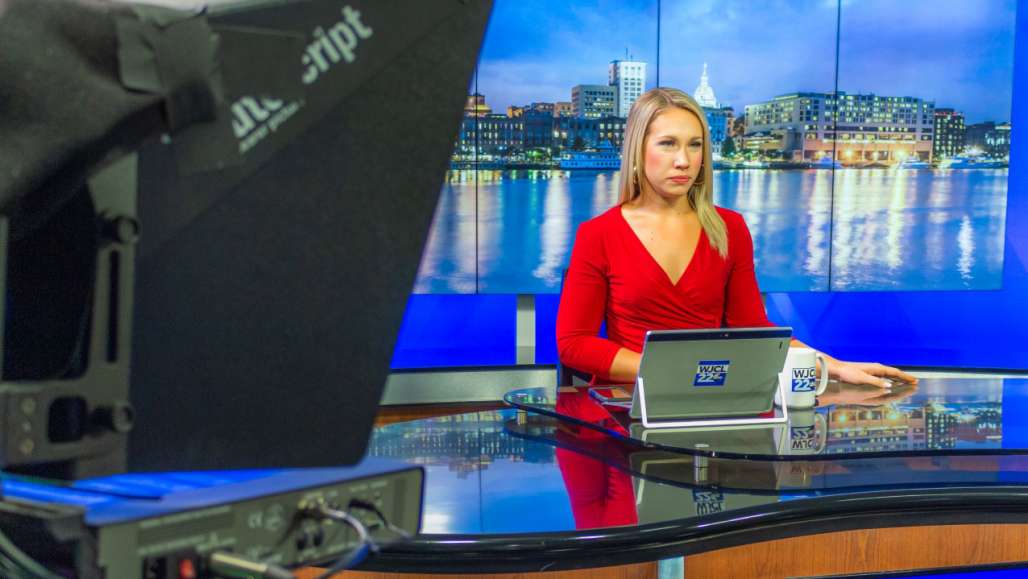 Emma Hamilton '18 was the first woman to co-anchor the Keene State College's weekly sports recap show, Inside Owl Athletics, and now she's the weekend morning anchor at WJCL News in Savannah, Georgia. Emma's passion for broadcast journalism has paved a place for her in the industry and it all started at Keene State.
Emma found herself drawn to the journalism department at the beginning of her sophomore year and quickly immersed herself into the program with video projects, photo illustrations, and writing articles for The Equinox, the award-winning student newspaper. When she took Broadcast Journalism with Journalism Department Chair Dr. Chad Nye, she knew she found her calling.
"I remember rolling the prompter and helping him direct one day and knew it was what I wanted to do," she said. "And when I sat at the anchor desk for the first time, I never felt so high on life!"
Dr. Nye immediately recognized Emma's passion for broadcast and her drive to constantly improve her work. "She came in as the total package of what you want in a serious broadcast journalism student and her motivation never went away. She started in Broadcast Journalism, then moved up to the advanced classes where we do KSC-TV and was the first woman anchor that we ever had for Inside Owl Athletics."
Emma channeled the high she felt for anchoring and took every opportunity she could throughout her four years at Keene State. She completed a summer internship with Fox 13 News in Tampa Bay, Florida, got involved in several organizations and events on campus, continued working on KSC-TV and Inside Owl Athletics, and was also named Broadcast Rookie of the Year for 2016-2017 and TV Journalist of the Year 2017-18 by Keene State. Aside from her professional development, Emma also found love during her time at Keene State. In the fall of 2015, she met Crae Messer '17 in their Digital Journalism class, started dating a few years later, and announced their engagement this past March.
In March of her senior year, Emma applied to dozens of news stations across the country, and the day before she walked across the stage at commencement in May, she was offered a reporting position with KBZK TV in Bozeman, Montana. Emma moved out there only three weeks later but her journey did not stop there. After only a few months on the job, she was promoted to weekend anchor and quickly built up newsreel footage. She decided to post those reels on YouTube to start documenting her work and tracking her progress but to her surprise, she was contacted by news outlets nationwide. WJCL News immediately offered Emma a reporting position and Emma moved to Savannah in September 2019. Yet again Emma's talent and work ethic did not go unnoticed and she was promoted to weekend morning anchor with the station this past February.
"I have so much pride in the fact that what I do every day makes a difference, and that people wouldn't be able to function without the news," Emma said. "Keene State has helped me become who I needed to be as a person and as a journalist and I know I wouldn't be where I am today if it wasn't for the faculty and resources that were there for me in the Journalism Department."
Keene State has the only stand-alone, four-year journalism degree program in New Hampshire that comes equipped with a state-of-the-art journalism studio lab. This past winter, the Journalism, Multimedia, and Public Relations Studio Lab was renovated with new equipment and technology that can create full-screen graphics, over-the-shoulder graphics, maps, live camera shots, and provides more live streaming capabilities.
Since the renovations have been made, the department has reported they have doubled their output of Inside Owl Athletics and KSC-TV with two shows a week instead of one. The new upgrades also come at a good time during the pandemic because now students are learning how to adapt news with new technology and reach a variety of different audiences. Dr. Nye said that the livestream and social media market was not as prevalent before this last year and now that it is, there will always be a need for someone to know how to operate the technology. "If there's a student out there that was interested in broadcast journalism, who's interested in television production, they need to get up here and they need to get with us," he said. "We are able to teach students what a realistic television news broadcast looks like and give them the experience of working on one."
Emma said that a lot of the new equipment is technology she uses at WJCL and encourages students to take advantage of it while they can in order to help prepare them for life after graduation. To anyone interested in the journalism program at Keene State, Emma says that getting involved is easy and the opportunities you have are limitless. "The professors and staff care about you and what you learn will differentiate you from other graduates in the future. Take it all in and be ready to grow in every way possible," she advised.
For more information about becoming a journalism major, check out the Journalism, Multimedia, and Public Relations Program or email Dr. Chad Nye.
-By Jack Hanson '21
Related Stories