Entrepreneur, Artist: KSC Graduate Sam Kane's Story Is The Stuff That Dreams Are Made Of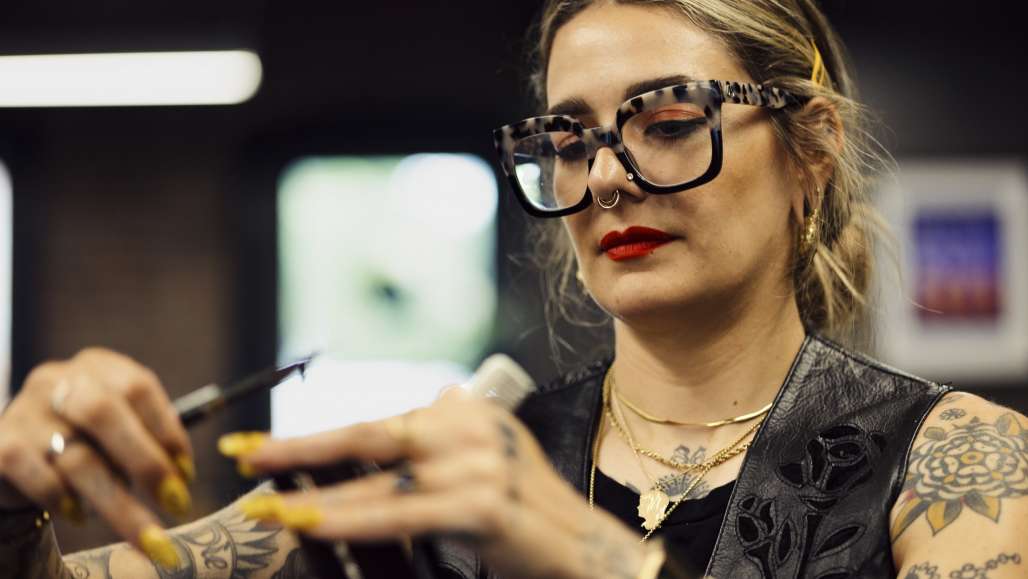 Our graduates are everywhere doing cool and interesting things. Sam Kane '09 is among them. She had a dream: cut hair and own a salon.
She also had a blueprint: graduate from high school and make a beeline to cosmetology school. Boston is where she's always wanted to be and San Diego was a close second.
"That was pretty much set in stone, when I was in 8th grade," says Sam, today the owner and proprietor of the always-busy Blackroom Salon on Berkeley Street in Boston's South End neighborhood. "It's what I always wanted, and I never stopped believing it would happen."
Her beeline, however, included a detour from her home in Westminster, Massachusetts, to nearby Keene State College, where she lived on campus all four years while earning a bachelor's degree in business management.
Desire and determination to fulfill what she saw as her destiny then quickly rerouted her to cosmetology school.
Family encouraged the college add-on, she says, as something to fall back on if her designs on being a hairstylist were to change.
A successful businesswoman, artist, and award-winning hair stylist, Sam says staying true to herself and what she wanted paid off.
"I don't regret my journey at all," Sam says. "Everything I've done has truly given me so much more. Looking back now, I'm still a pretty big advocate for the trades, but I also know that I had the right combination of education to get me to where I am, doing what I know I am supposed to be doing."
At Keene State, she also minored in psychology and worked part-time jobs 30 hours a week to pay bills and loans.
A pride flag flies at her business, a show of support for the LGBTQ+ community, Sam says. "At a time when states are lifting away so many rights for individuals, we want to be as open and welcoming to all as we can." She says her business will host a Cut-A-Thon in July for gender-affirming haircuts.
It was kismet that she gained Keene State President Melinda Treadwell as a regular client. Treadwell found Sam while looking online for a hairstylist. Until then, their paths never crossed.
Sam identifies as a craft hairstylist and while her specialty is short haircuts using scissors and a straight razor, she was recognized by Boston Magazine's Best of Boston in 2019 for Best Long Haircut. Said the magazine: "Sam approaches each haircut as if it's art in the making, shaping her canvas by listening carefully and never passing judgment."
Sam sees her business, and more specifically her hairstyling chair, as a safe space for clients to open up and share whatever they want.
"It's very much this one-on-one thing," she says of her work. "You have no choice but to listen to your client and I kind of get locked into that. We don't do quickie haircuts Good quality requires proper time to provide the service."
She adds: "I love what I do, and I don't like to fail. I made this all work. Luck, determination, a combination of those things, I don't know. Maybe it's my one-track mind that I have had for so long to have this career."
She has styled hair at New York Fashion Week, been in published editorials, and presented on stage at the International Salon and Spa Expo for Elevate Hair and Hairbrained.
Animals are also part of her inner circle. Since moving to the city, Sam and her partner have adopted three dogs (Winnie, Loretta, and Weasel) and two cats (Bones and Wilma).
The Blackroom is a full-service salon offering hair color, extensions, haircuts, keratin treatments, makeup, and eyebrow services. To learn more about Sam's business, visit https://www.blackroomsalon.com/
Related Stories