Film by Faculty Member, Alumni and Students Selected for Screening at Two Festivals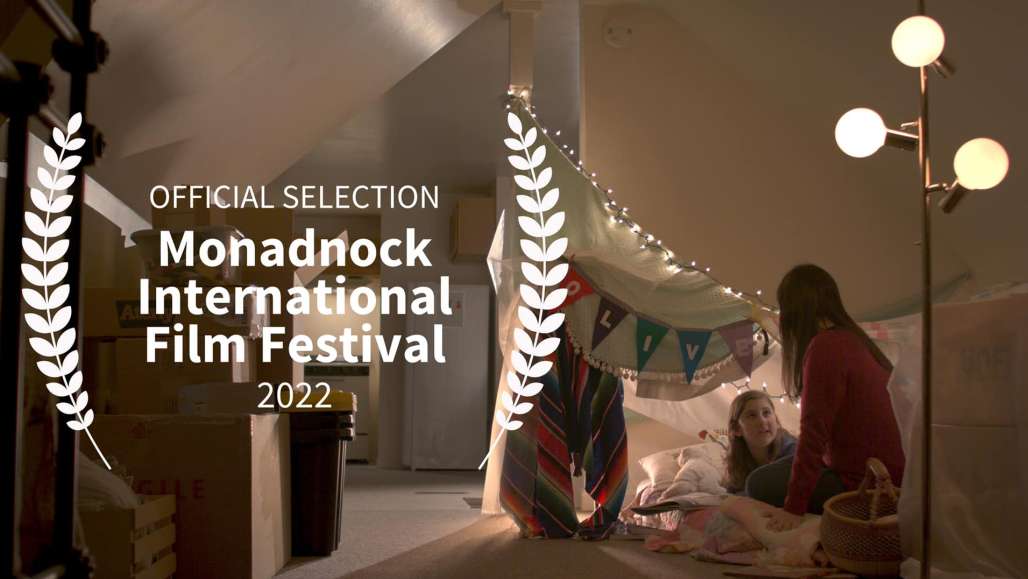 Film students at Keene State College learn basic and advanced cinematic techniques, including camera angles and lightning; shot composition; and editing, but always with moviemaking in mind. It is the action that they crave.
All of which makes Georgia's Line, a short film written and directed by Associate Professor Jo Dery, the special and unique project that it is.
The film, which entered production in January 2020, features a crew of Keene State alumni that mentored current film students during production and post-production.
And now the film, which began as a practicum project for Dery, is set to screen at a pair of film festivals, the 2022 Monadnock International Film Festival (MONIFF), kicing off Friday and this weekend in Keene, and the NH Film Festival in October.
At MONIFF, in its 10th year, Georgia's Line will show Friday morning at 10 am at SHOWROOM, a Colonial Performing Arts Center venue in downtown Keene. It will screen as part of the festival's Selected Shorts Program A category.
Festival audiences can attend in-person screenings at SHOWROOM Friday through Sunday, Sept. 25. Starting Tuesday, Sept. 27, audiences can view virtual in-home screenings via the festival's streaming platform through Oct. 6.
Dery wrote and directed Georgia's Line. Keene State alumni comprised all the film's professional crew, Dery said, adding that about a dozen students in all participated in production and post-production work.
"I'm thrilled that the hard work of our amazing Film Studies alumni and students can be shared with the Keene community," said Dery, who joined the college's Film Studies Department in 2014. She teaches a variety of courses and helped to launch the department's first sojourn into animation.
The film's running time is 16 minutes, 30 seconds. Georgia's Line was filmed over four days in January 2020, on unceded Western Abenaki land. Principal photography took place in Brattleboro, VT, and in Unity, NH, at the Quaker City Land Trust, a cooperative community established in the 1970s and still active today, Dery said.
The short film explores themes of intergenerational family relationships between women; the myriad inner conflicts present in motherhood; and the paradoxical human need for both community and aloneness.
The character Georgia spends each winter as part of a mysterious all-female commune, whose members commit to a subsistence lifestyle and take a vow of silence. When Georgia's daughter and granddaughter return home to Vermont in need of support, Georgia's role in the family unit comes into conflict with her desire for solitude.
"Having completed films on 16mm, SD, and HD video, I was excited to try a new format; we used a Blackmagic Ursa Mini shooting 4K video to capture all the beauty of southern Vermont," Dery described.
The film is the professor's first live-action narrative film.
"After working across artistic disciplines for 20 years – creating animated films, comics, prints, and multi-media projects – I wanted to push my visual storytelling practice in a more collaborative direction," Dery writes in the Director's Note on the film's website. "A native New Englander, I moved to Vermont in 2014. I became a foster parent in 2016 and adopted my foster son in 2018. Georgia's Line is, in part, inspired by my experience as a single parent."
Two faculty and development grants from Keene State and an artist development grant from the Vermont Arts Council helped to fund the project. Here is the film's cast and crew:
Main cast
GEORGIA: Georgia Morgan;
ROBIN: Robin Morgan;
OLIVE: Olive Gitelson
Crew
PRODUCER: Miranda Dean; CAMERA: Riley Keefe, Jo Dery, Ben Heald, Lindsay Taylor Jackson; COMPOSER: Ruth Garbus;
SOUND MIXER: Aaron Bouchar;
BOOM OPERATOR: Zach McCallion;
ASSISTANT TO THE DIRECTOR: Jessica Moir;
ASSISTANT TO THE PRODUCER: Sarah Nickerson;
ART DIRECTOR: Chloe Lee
Also:
ART DEPARTMENT: Makayla Gawlik, Ian Ludders;
GAFFER: Ben Heald; GRIPS: Anthony Paquin, Ryan Cabana, Hunter Anderson;
DATA WRANGLERS: Miranda Dean, Sarah Nickerson;
COLOR: Anastasia Shepherd; SOUND MIX: Ben Rogers;
TITLES + EFFECTS: Jo Dery;
CRAFT SERVICES: Brendan Tang
More about Film Studies at Keene State
Related Stories