Faculty and Students Reveal Study on Substance Abuse at Keene High School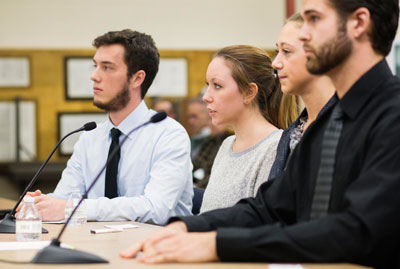 Keene State College health science students revealed results from a semester-long research study to better understand why substance abuse is prevalent at Keene High School (KHS), uncover why KHS students are abusing substances, and to analyze the KHS Substance Abuse Policy. The Keene State research team concluded that their results should be used for an "open and honest conversation" with the Keene community about KHS substance abuse. The team encourages school administrators to strengthen partnerships with groups such as the Monadnock Alcohol and Drug Abuse Coalition to better educate KHS students, staff, and parents. Finally, the research team recommends updating the KHS Substance Abuse Policy and exploring the possibility of co-hosting an educational conference for the Keene community with Keene State College.
"These Keene State student researchers have served our community well through this project. The research, and recommendations made as a result of their efforts, are significant steps toward reducing substance abuse," said Keene State College Health Science Assistant Professor, Dr. Marjorie Droppa. "Time is of the essence. The high school students in our community need our help immediately. We need to work collaboratively for the health and safety of our youth – this includes Keene High School students, parents, staff, and organizations in our community that can provide needed support. Keene State's Health Science Department wishes to help any way that we can."
Over the course of the semester, 10 health science seniors at Keene State College conducted focus groups and conducted one-on-one interviews with KHS students, parents, staff, and inmates at the Cheshire County Department of Corrections who attended high school in the Mondanock Region and have a history of substance abuse. The research was conducted as part of the students' senior capstone projects.
"I am a substance abuse major here at Keene State College – to see that the issue is so bad just in our back yard was surprising to say the least. I was astonished that we had some of the worst statistics not only for tobacco, but for heroin and cocaine as well," said Emily Thomas, Keene State College senior. "Once we started the interviews it was even more clear that the issue was a big one. I think people don't want to accept that it is happening in their 'backyards'. This class taught me a whole set of skills that I otherwise may not have gotten until much later or ever in my career. I am glad I could be a part of this research and the project itself."
Research shows that New Hampshire has a higher than average occurrence of high school substance abuse in the nation. Keene High School has a higher incidence of certain kinds of substance abuse than the rest of New Hampshire, including alcohol and cocaine use.
Related Stories