Faculty and Students Research Wintertime Air Pollution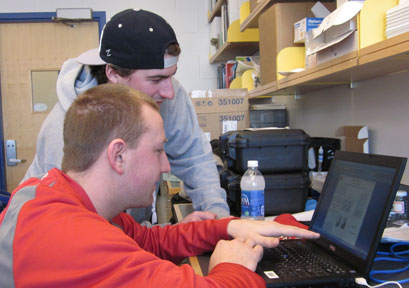 Keene State College Collaborates with State and Regional Experts to Educate Public about Heating with Wood Efficiently
Keene State Faculty and Students Research Health Impacts of Wood Smoke
The first official day of winter is fast approaching later this month, and New Hampshire residents are busy heating their homes. Wood is a significant source of heat for residents in the state. To address the potential health problems associated with excessive wood smoke, Keene State Environmental Studies Department is collaborating with NH Department of Environmental Services, Cheshire Medical Center/Dartmouth-Hitchcock Keene, the Greater Monadnock Public Health Network, the City of Keene, and the Southwest Region Planning Commission to educate residents on how to burn wood in a way that maximizes heat and minimizes pollution. Keene State Environmental Studies and Geography faculty and students are also conducting research in the Keene area to identify where air pollution is concentrated, with the ultimate goal of determining if fluctuations in local air pollution levels are associated with the number of emergency room visits for respiratory illnesses.
"It is a pleasure to be a part of a larger collaboration of concerned stakeholders on this issue. Both the educational campaign that our collaboration is pursuing, and our research at Keene State will have real, positive results in terms of better understanding our local air quality," said Dr. Nora Traviss, associate professor of Environmental Studies at Keene State College. "Understanding the impacts of wood smoke and empowering individuals who rely on wood for heat to take important steps in improving Keene's air quality is incredibly valuable now, and for years to come."
In recent years, Keene, New Hampshire has experienced problems with poor air quality during the winter months. Keene is located in a valley surrounded by hills, contributing to a meteorological event called an air inversion during cold, calm winter nights. This event causes cold air to remain at ground level, capped by a warm air lid. This lid traps harmful particulate matter (PM) pollution that is known to cause many negative health effects, including bronchitis, asthma, and heart attacks. Children seem to be at particular health risk from particulate pollution. Keene State's research project has three main goals; the measurement of "real time" concentrations of pollution throughout the Keene area, documenting evidence of wood burning for home heating, and analyzing health data provided by Cheshire Medical Center on emergency room visits during periods of increased and decreased PM air pollution.
"The issue of pollution from wood smoke is one that needs more attention – particularly as it relates to our children's health. It is critical that we both understand the problem better, and take steps to mitigate negative impacts," said Dr. Rudy Fedrizzi, Director of Community Health Clinical Integration at Cheshire Medical Center/Dartmouth-Hitchcock Keene. "I am very much looking forward to the positive outcomes from the educational campaign, and the excellent research that Keene State has undertaken in partnership with us."
Related Stories