Dr. Melinda Treadwell Recognized by Elm City Rotary of Keene With A Paul Harris Fellowship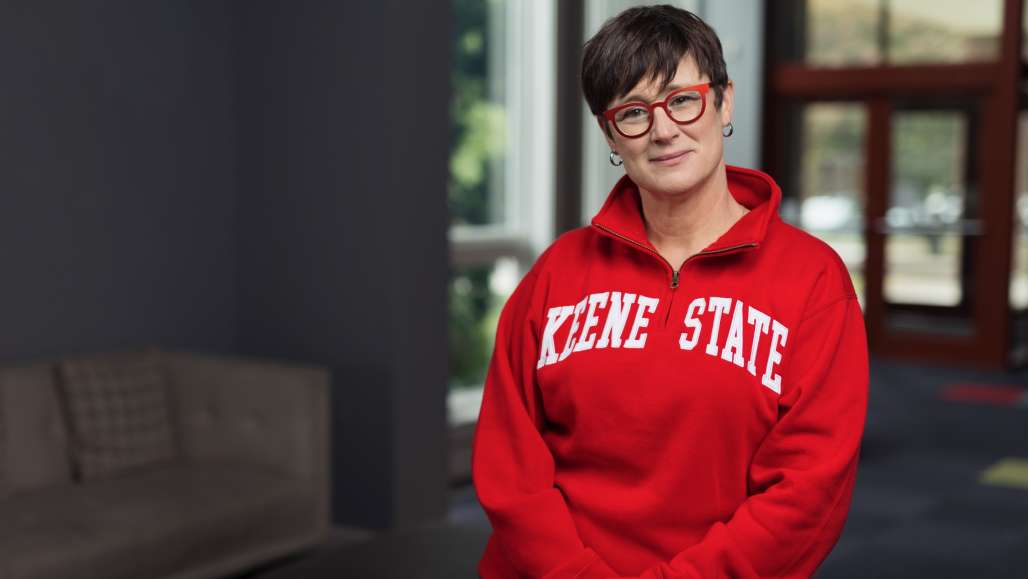 The Paul Harris Fellowship, Rotary's highest honor, was presented on July 13 to Keene State College President Dr. Melinda Treadwell at the weekly meeting of the Elm City Rotary Club.
The annual award recognizes outstanding contribution to community.
Further, Rotary member Patty Farmer said, the award is given to a person that, in life, vocation and behavior demonstrates and represents Rotary values and a spirit of humanitarianism.
In introducing Treadwell with the surprise honor, Farmer, a 1992 Keene State graduate, playfully rattled off the Top 10 reasons that the college president is a deserving recipient but ended by saying: "And the No. 1 reason: Her outstanding efforts to collaborate with so many important partners, including River Valley Community College and Antioch, for the betterment of not only the college but the Keene community. Our club is all about service, family, and community, and Melinda has upheld these priorities through her actions and efforts time and time again."
In her remarks, Dr. Treadwell noted the inseparability of the health of Keene State and the health of Keene – socially, economically, culturally – saying they always have been and will remain vital resources for each other.
"This city is unique and the college is important," Dr. Treadwell said. She called graduating talent-ready students to meet the needs of the regional and state workforce, among her highest priorities.
Dr. Treadwell also provided a brief update on the College, with a focus on enrollment; upgrades and enhancements to campus buildings, including classrooms, residential living space and the Redfern Arts Center; and robust strategic planning work that will help to guide the college forward.
Dr. Treadwell is an alumna of Keene State. Born and raised in central Maine, she was the first in her family to attend college. After college, Dr. Treadwell earned her PhD in Pharmacology and Toxicology from Dartmouth Medical School in 1995 and went on to work in the private sector as a toxicologist and public health policy adviser, with expertise in ambient and indoor air quality, diesel exhaust, particulate matter, and public-health decision making.
She joined Keene State College as a faculty member in 2000 in the Safety and Occupational Health Applied Sciences department and served as a principal investigator on many federal projects and developed research and teaching opportunities for Keene State students. Dr. Treadwell later became dean of Professional & Graduate Studies and was a provost at Keene State and Antioch University, New England.
In 2021, New Hampshire Business Review honored Dr. Treadwell with an Outstanding Women in Business award for her leadership during the COVID-19 pandemic, and her dedication to Keene State and the broader Keene community.
Paul Harris was a Chicago-based attorney who, in 1905, began Rotary International with three business associates as a humanitarian organization aimed at gathering diverse people together and improving relationships in his home city. The award in his name was established in 1957 to express appreciation and recognition for Harris' contributions.
Related Stories