Douglas Glennon '98 Recognized in the Union Leader's "40 Under 40" List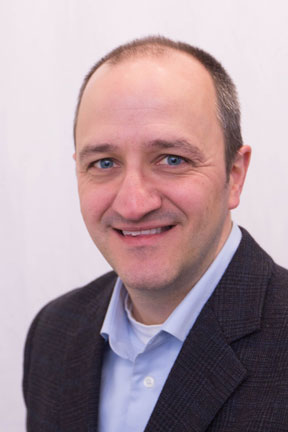 Douglas Glennon '98, who runs a software consulting business out of his home in Barrington, NH, selects a nonprofit organization each year that he helps and offers free assistance or IT support at a discounted rate. He was recently chosen for the Union Leader's "40 under 40" award, which recognizes 40 New Hampshire citizens under 40 years of age who have "contributed significantly to their field, their community or the state and should have the potential to do much more in future years."
Of course, we wanted to know if his time at Keene State contributed to him becoming the person he is today. "Certainly the education I received at Keene State College has helped me in my career and my volunteer activities a great deal." Glennon said. "There are courses that I took at KSC that I still think about when dealing with organizational structure and how groups of people 'form' into a team. This has helped in every committee or project that I've ever organized or participated in. But, even beyond the book-wise education, I would say that the 'soft skills' that I learned were almost as important. KSC is the first place that gave me the opportunity to step out of my shell and actively participate in the community.
"I always felt comfortable at KSC and it made it easier for me to seize an opportunity to be Student Body Vice President my sophomore year. I'm not sure that I would have had the courage to do that any place else. That role in particular brought my attention to the greater community beyond the college boundaries. The work that I did with the city's government, the USNH system, and the various KSC administrators in that role prepared me for the civic engagements that I participate in today. KSC taught me a lot about how to be a part of a community, how to participate, and simply that sometimes the most important thing you can do is just 'show up.'
"I was also fortunate enough to study abroad while at KSC. I think it's important to be well-rounded and understand that there are different cultures and different ways of thinking. When dealing with large events, and contributing to the community as a whole, there are many moving parts and many people from all walks of life. Having an understanding of working with different personalities and joining disparate ideas into a common goal becomes not only useful, but mandatory in that scenario. The time I spent at KSC helped me a great deal in learning how to do that.
"I'm proud to be born, raised, educated, and now raising my family in the state of New Hampshire. KSC and the rest of the USNH system is an incredibly important part of our state's ability to continue to be ranked as one of the best places in the nation to live."
And Keene State is sure proud of Doug!
Related Stories