Keene State College Singers Front And Center in Unique, Ongoing International Choral Exchange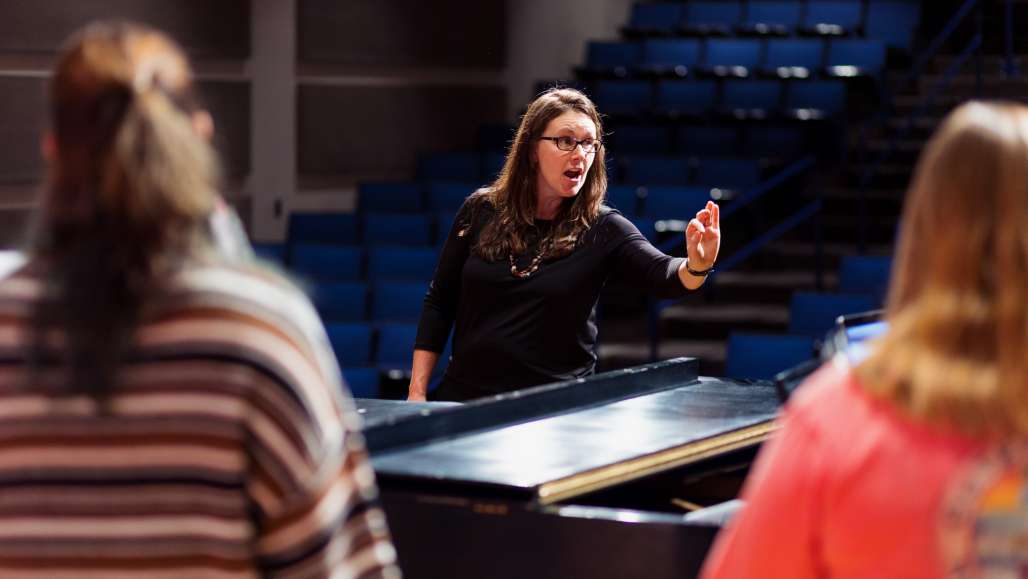 And the beat – er, music – goes on.
In May, the Keene State College Concert Choir will travel to Keene's partner city of Einbeck in Germany to participate in an eight-day choral-cultural exchange of community musicians.
The trip will mark the sixth exchange of this kind in a longtime friendship, first formed in 2002. The partner-city exchange gives civic leaders, young athletes, choral groups, and even quilters opportunity to travel, to forge long-distance friendships and to immerse themselves in a friendly foreign setting.
The music-themed exchange began in 2012, when the Keene Chamber Singers performed in Einbeck. Before this year, the other choral exchanges were in 2013 (VOICES visited Keene), 2017 (Chamber Singers visited Einbeck) and 2019 (Kantorei visited Keene).
In March, a visiting choral delegation from Einbeck, featuring the Youth Choir of St. Nicolai, visited Keene for an international choral collaboration performance in the Redfern Arts Center Alumni Recital Hall on the campus of Keene State.
The Keene delegation traveling to Einbeck, May 8-15, will include 23 students, four Keene State faculty/staff members (Dr. Sandra Howard, Music; Dr. John T. Hart, Jr., Music; Prof. Eileen Phillips, Mathematics; Mr. Brandon Carta, Student Center Programs Coordinator); and family members of Dr. Hart.
"This is something that we always look forward to," said Sandra Howard, professor of music at Keene State. "Not only will our Concert Choir rehearse and perform several concerts during our visit, but for many of the students, this will be the first time they travel outside of the United States."
The Keene group will be greeted at Frankfurt Airport by Ulrike Hasdedt, conductor of the Kantorei Choir, Howard said.
In 2017, at Munsterkirche St. Alexandri, a historic cathedral in Einbeck, more than 120 musicians from the partner cities performed under the direction of Howard, Hastedt and Annett Steinberg.
The upcoming exchange will include visits to Goetheschule, a high school; the Mendelssohn Community Music School; and the Detmold Academy of Music. Also, the visit will include a tour of PS-Speicher, a transportation museum; KWS, one of the world's largest seed-producing companies; and the Einbecker Brewery, one of the oldest still-operating breweries in the world.
Einbeck is a city of about 31,000 people in Lower Saxony, in northwest of the country.
Related Stories