Students Observe National Hunger and Homelessness Week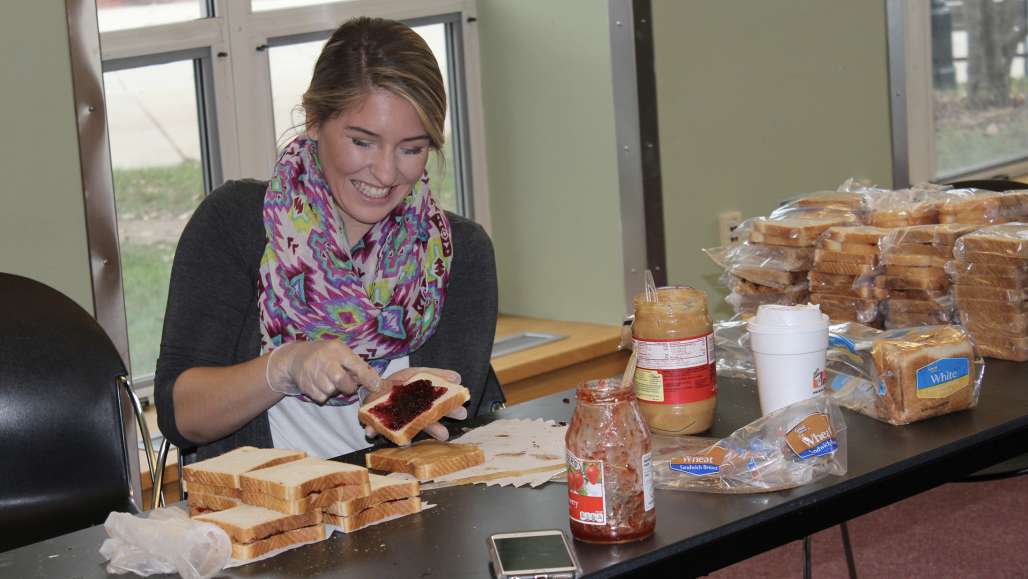 There's more to Habitat for Humanity than swinging a hammer, as the president of the Keene State College chapter of the organization likes to tell interested students. "We focus on the community in general," says senior Riley Beliveau, "and providing affordable housing for all."
Beliveau recently led students, faculty, and staff in assembling peanut butter and jelly sandwiches to donate to the Hundred Nights homeless shelter in Keene. The event was part of a week of service-oriented activities planned in observance of National Hunger and Homelessness Awareness Week, November 12-18.
Coordinated by the Community Service Office, the campus activities include a poverty simulation, recycling shopping bags into sleeping mats, and a bingo night and raffle to help collect items needed by the Hundred Nights Shelter.
Keene State's Habitat chapter has three main functions: building and rehabilitating houses in partnership with Habitat affiliates and homeowners, educating the campus and community about affordable housing issues, and raising funds to support the work of Habitat for Humanity locally, nationally, and internationally.
This year, fundraising is supporting Habitat's work in Nepal. The group chose the Himalayan country at the suggestion of one of its members, Puja Thapa, who is one of two young women who have received scholarships to Keene State through a partnership between the college and the Nepal-based Little Sisters Fund.
Related Stories