Catcher of fastballs, fighter of fires, Montembeault '22 stays the path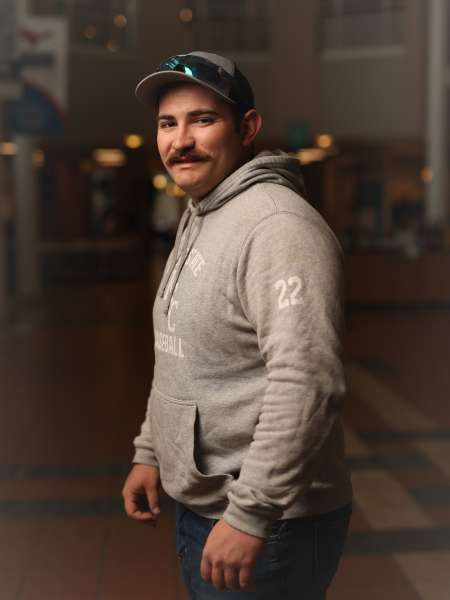 The bed of Michael Montembeault's pickup truck is full – and equally divided – with the trappings of his life these days: baseball equipment and firefighting gear.
But that is about to change. There is the matter of one remaining collegiate stint on the baseball diamond – a Senior Day game – but after Michael graduates from Keene State a day later, the longtime catcher's baseball equipment will no longer need to be within easy reach. The firefighting gear will.
The affable senior, known by those closest to him as just "Monty," will enter the real world as it is known and become a firefighter in the city in which he was born and raised and loves, Manchester, NH.
He will graduate with a degree in Safety & Occupational Health Applied Sciences and an education that, he says, was the perfect fit that he imagined and hoped for.
"I have felt challenged, but not overwhelmed at Keene State," Michael says. "It has been nothing but good. Some classes are tougher than others, sure, but there is so much help here if you are struggling. And they let you know early enough if you are struggling or getting behind, that you won't get into trouble."
Michael has known for as long as he can remember what he wanted to be when he grew up. To be a firefighter, is a calling of sorts, he feels.
When Michael was recently polishing his resume, he went back over records with his fire services mentor, Charles Pierson, and found that, during his four years at Trinity High School in Manchester, he logged more than three hundred hours of volunteer ride time with Engine Station 2, which covers the West Side of the state's largest city and is one of ten stations in Manchester.
Pierson is the 20-year captain of Station 2.
"He'd come in at 9 AM and stay until 11 at night," Pierson recalls of the dozens of ride-alongs. "He'd be there 14 hours sometimes. And when there was time for training, he'd be there for that, too."
Pierson said Michael's passion and desire to learn stand out.
That, "And he likes giving back," he says. "He has been that way for as long as I have known him."
Pierson notes, for example, that Michael participates in the CHaD Battle of the Badges Baseball Classic, which is contested each year at Northeast Delta Dental Stadium in Manchester to benefit children and programs at Dartmouth Health Children's and the Children's Hospital at Dartmouth Hitchcock Medical Center. It pits state firefighters against police officers. This year's game is in August.
Michael still has his EMT certification to complete, he says, which he hopes to do between now and the end of June. At a fire academy in Concord over the summer, he earned requisite certificates in Firefighter 1, Firefighter 2, Hazmat Operations Awareness and Fire Ground Survival, he says. His Keene State studies provided other hazmat training, he said, as well as critical incident response classes. His broader degree, he said, leaves future doors open.
"If there comes a time," he says, "when I don't want to crawl hallways anymore, this degree will give me other opportunities." Michael, 23, took a bridge year after high school to prep at Bridgton Academy in Bridgton, Maine.
"I didn't feel I was ready for college just then, academically or athletically," he says. "It was a good move for me. I could have gone straight to work, but I did want to see if I could play college baseball."
Michael's father, Jeff, was a standout baseball player at New England College (NEC) who was drafted by the Chicago Cubs, though his career was shelved because of an injury. He is the founder of the NH Bobcats, an elite travel baseball program with six New England titles in various age groups.
Interesting thing, Michael adds, a career baseball highlight for him was homering in his first at-bat in his first collegiate start, as a freshman. That was against his father's alma mater. That year, too, Michael says, NEC went on to reach the College World Series.
COVID-19 interrupted the Owls', and Michael's, sophomore, season. It came crashing down while the team was playing spring ball in Florida, Michael says. Michael became a regular starter his junior year. "Catching is what I knew," he says. "It's a tough position, physically and mentally."
He said another personal career baseball highlight occurred earlier this season in a home conference game against Castleton State. He was not part of the highlight, but witness to it. His close friend and roommate, Michael Collins, roped a walk-off hit to cap a comeback win.
"It was my birthday, too," Michael said. "I was so happy for him. He has worked so hard, and for him to have that moment was great."
Michael credits his time with a Fire Explorers Post in Manchester that he joined when he was 14 years old and stayed with for a couple of years. In time it provided him the opportunities for those ride-alongs and trainings, and it is when he really "fell in love" with firefighting, he says. Today, he is helping other students have that same experience, working as a volunteer instructor with the Richmond (NH) Fire Department's Juniors Program.
"(Firefighting) as a field is always changing; there are so many things into which you can go," he says. "It's good to stay involved this way, and to let younger people know that there is more to this work."
He credits his family – father Jeff, mother Dina, older sister Jessica, and his grandparents – and a close circle of college and hometown friends and teammates for being positive and stabilizing influences in his life.
He is thankful, he said, for the fire services brotherhood, too, that he already feels a part of. That includes, he says, Pierson, Richmond Chief Ed Atkins, Richmond Deputy Chief Rob Skrocki and Richmond Captain Spencer Heise, all of whom he said he counts among his closest friends.
And then there is baseball, and the lessons and bonds that one derives from being a student-athlete. They are real and lasting.
"Michael's experience within our program and the Richmond Fire Department have helped strengthen his natural instinct to be a good teammate," Justin Blood, Keene state baseball coach, said. "He's a good communicator and very aware of the needs of his peers."
At Keene State, Blood said, Michael "built strong relationships within our program, his academic program, and the community. It's what every student at Keene State should strive for."
The pickup bed – aka his workbench of baseball and firefighting tools – will stand as a perfect metaphor for Michael's college days and long-held aspirations.
However, the time for the next chapter has arrived, and Michael is ready, he says.
The calling is still loud and clear.
Related Stories