Biology Professor and Brazilian Partners Research Obscure Plants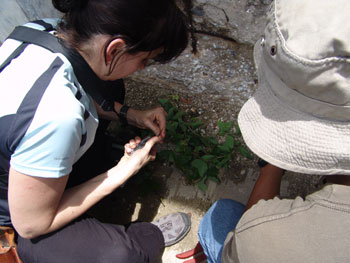 Associate Professor Dr. Kristen Porter-Utley Conducting Research with Brazilian Partners
Keene State College Associate Professor of Biology, Dr. Kristen Porter-Utley, is collaborating with partners in Brazil to study, for the first time, the evolutionary history of a large group of tropical plants. The family of plants has largely been ignored by scientists despite the fact that most of the plants are important trees in tropical forests around the world. The species of plants Dr. Porter-Utley is studying likely originated about 115 million years ago. Dr. Porter-Utley and some of her students are extracting DNA from samples sent by her collaborators in Brazil and provided by storehouses of dried plants, to ultimately help people understand the evolution of these plants, and the ecosystems and biodiversity in South America and beyond.
"The research I am conducting helps us understand our past, in order to better protect our future," said Dr. Porter-Utley. "This research opens the door to a great deal more knowledge about our natural world, while providing students with opportunities to expand their hands-on research experience."
There are more than 500 species in the plant family that Dr. Porter-Utley is studying. With the help of a small Keene State grant, she is starting her project by focusing on one-quarter of the species in the family. Dr. Porter-Utley is seeking additional funding with the goal of researching all 500 species of plants.
More information about Dr. Porter-Utley's research can be found online at www.kporterutley.com.