Audrey Boraski '17, Takes Her Keene State Biology Degree into the Wilderness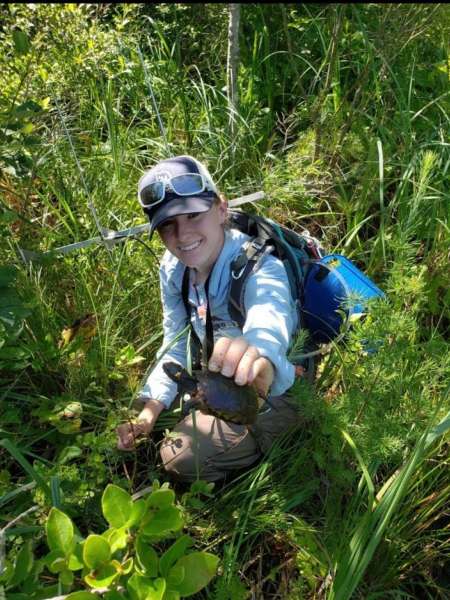 When Audrey Boraski entered Keene State in 2013, she was focused on nutrition, but she knew what she really wanted to do: work with wild animals. In fact, her fourth-grade teacher had predicted that as Audrey's career. She had avoided the hard sciences in high school, but when she talked to Dr. Kristen Porter-Utley, a botanist, for advice about her major, the former Keene State professor firmly recommended that Audrey major in biology. And so she did. "In my first class on ecology, I realized I could do this," Audrey recalled.
Fast-forward to September 2017. Just three months after she graduated with a bachelor of science degree in biology, Audrey landed an internship with the Student Conservation Association and found herself knee-deep in the Great Dismal Swamp, a vast wetland ecosystem in coastal Virginia and North Carolina. Her job was to help reintroduce the red-cockaded woodpecker to the Swamp. To Audrey's delight, the project involved habitat restoration, the creation of new nesting sites high in tree cavities, and a dark-of-night "translocation" of a family of red-cockaded woodpeckers from South Carolina to a new home in the Swamp.
"I was well prepared for anything after four years in the biology program at Keene State," Audrey said. She was able to extend her internship for a whole year, long enough to see the success of the woodpecker project. She also started taking graduate courses at Antioch University and participating in research in bioacoustics, studying the calls of the gray tree frog.
As her graduate study progressed, she took a position at the Hilltown Land Trust in Ashfield, MA, where she is a TerraCorps Land Stewardship Coordinator, working with volunteers on the thousands of acres protected by the trust in northwestern Massachusetts. She leads hikes on the trails, tracks bog turtles (the most endangered freshwater turtle) in the Berkshires, and she is outside every day. A childhood dream come true.
"Without my biology professors at Keene State, I couldn't have done any of it," Audrey said. To give back, she's joined conversations that bring together current Keene State students and biology alumni on Zoom to talk about how to put a biology degree to work in the real world after graduation from Keene State.
Related Stories