Alumna Jocelyne Cummings Begins Her Ice Hockey Career at Keene State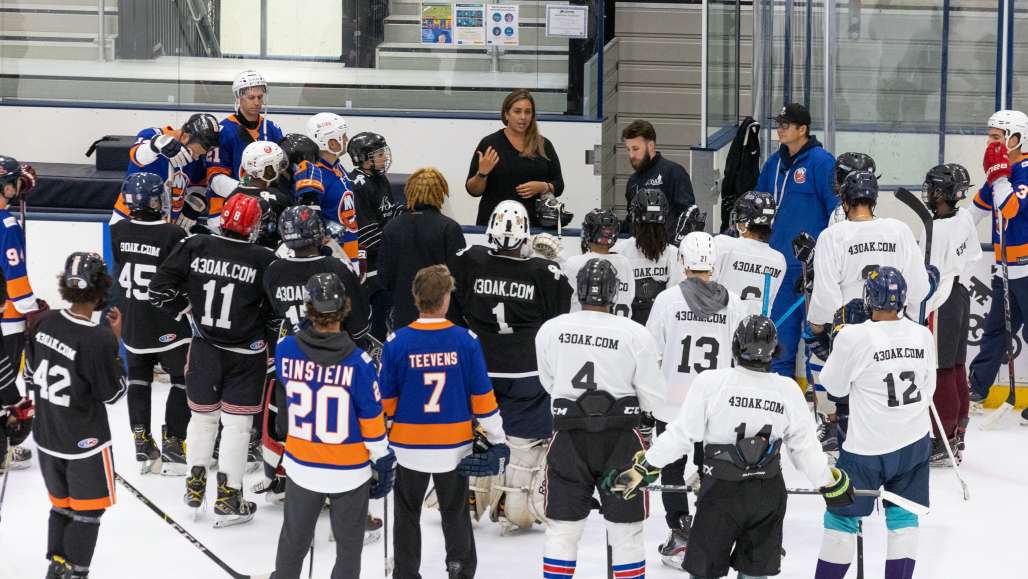 Ice hockey is a sport that demands intense, fearless play. Its best players are competitive, athletic, dedicated. From frozen ponds in Edmonton, Alberta, to indoor ice rinks all over the U.S., kids as young as four suit up to learn the game that is a love of Jocelyne Cummings, a 2009 Keene State Business Management grad.
Jocelyne grew up in Norwich, CT, in an athletic family where everyone played at least one sport. Her father, brother, and grandfather played ice hockey – Jocelyne says she was "raised at a rink."
At Keene State in the fall of 2005, Jocelyne moved into Randall Hall, not knowing anyone. "In the first week, I met my best friends!" she recalled. She still has regular reunions with that core group. Their friendships were solidified by their love for sports, and they decided to start a club ice hockey program for men. With the support of coaches, and particularly Bert Poirier from the Admissions Department, the college backed the effort. Since then, Keene State has added club ice hockey for women.
"I didn't realize it at the time, but I was already building my resumé," Jocelyne said. "I learned what it takes to run a team. I was studying business management, my major, but it should've been called sports management." In fact, Keene State now offers a sport and recreation management major.
The summer after graduation, while working as an intern for the Keene Swamp Bats, she got a call from the New York Rangers asking her to be the secretary to the president of the Connecticut Whales, an American Hockey League farm team for the Rangers. One week into the job, the director of amateur hockey left, and Jocelyne became the new director. "It was a whirlwind – I had to handle all of the logistics, organizing, managing a part-time staff, everything," she said. "If it hadn't been for all of my hockey knowledge and all those Keene State players and coaches, I couldn't have done it."
Two years later, the New York Islanders of the National Hockey League recruited Jocelyne to manage all of their amateur hockey development, and she moved to Long Island. "It's all about growing the game, and growing each player," said Jocelyne. "At the grass roots level, we want to get sticks into kids' hands, but amateur hockey isn't only for kids. We have players with ages four to 80."
In 2020, Jocelyne received the Alumni Inspiration Award for her ongoing support of the ice hockey club program and her ability to connect alumni to each other and to current students. To her, this kind of connection comes naturally, as she said, "After all, Keene State gave me friends for life!"
Related Stories