Experiential Learning Opportunities for Keene State Students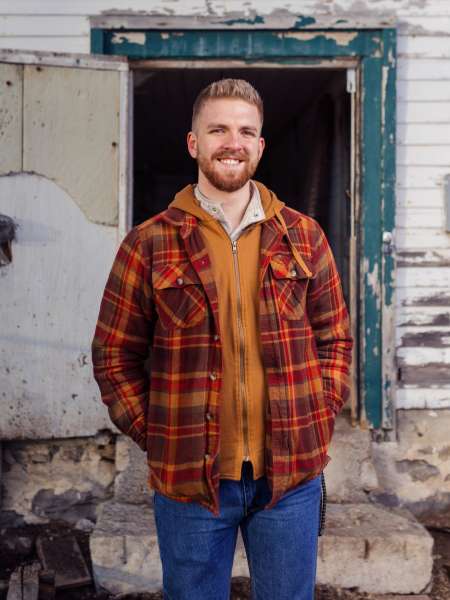 A major gift from a Keene State College graduate will be used, in part, to endow experiential learning opportunities for Keene State students starting in 2023-24.
Vincent D. Russell is a 1950 graduate, Army veteran, and a one-time field director for the American Federation of Teachers, one of the nation's largest union organizations. His $1 million gift, announced in November 2022, will also underwrite a visiting faculty scholarship each year. (See a full story on Vincent – his life and his generous donation – on page 6.)
Real-world learning is a staple of a Keene State education, and at the heart of the intent of the liberal arts experience. That multi-dimensional experience includes creative expression, interdisciplinary learning, internships, study-away opportunities and rich curricular and co-curricular offerings.
Deeper intellectual, cultural and professional experiences of these kinds equip Keene State students to do meaningful work, during and after their education, and often result in direct internship-to-employment opportunities.
When Josh Bailey '23 graduates in the spring, a full-time job with Clark Construction will await the construction safety sciences major. During the summer, Bailey interned with Clark as a member of the firm's safety team on a jobsite at the U.S. Capitol's Cannon Office Building in Washington, D.C.
James Poolman '23, an architecture major, spent a large part of his summer working with a local nonprofit, the Hampshire Country School, a boarding school for 4th-9th grade boys who have difficulty in other educational settings, but who are high-ability by many measures. The school features a functioning, small-scale sustainable farm.
Collaborating with school officials, James produced a needs assessment, design options and a conceptual design for a new barn. In November, James presented his design and scaled model to the school's Board of Trustees.
"It's gone further than I thought it would go," James said. "There is always more to be done with a project like this, but everyone has been helpful and engaged. My entire project is made to be strong and simple, that feels safe and that features familiar materials, for both the animals and the boys."
Bringing studies out of the classroom and into the real world is a big focus not just for architecture students, but across majors and areas of study at Keene State.
"Not a lot of people in college get the opportunity to do something that has a chance of being built, like I have now, or presenting a project to a client. It puts me ahead of other students, especially in competing for graduate schools."
Jim Draper, a trustee of the school and a former longtime Keene State employee, called James' work and design "innovative and well thought out."
"There is a lot to consider and factor in," Draper said. "A cost-effective steel building, housing for animals, classroom and lab space, running water for animals. There is a lot to it, and it matters because 70 to 80 percent of the food grown on the farm is consumed by the people on campus."
Research alongside faculty members, performances, clinical placements and student teaching are part of Keene State's high-impact curriculum, which also helps to prepare students for success.
In the past year alone, other Keene State students have done amazing things:
Environmental studies students researched invasive species during a summer internship at the Harris Center for Conservation Education.
Students majoring in sustainable product design & innovation joined a research team focused on testing biological materials for bioprinting.
A sport and recreation management major completed a game-day operations internship this summer with the Keene Swamp Bats of the New England Collegiate Baseball League, which features 13 teams and boasts of nearly 150 Major League alumni.
Film studies students worked alongside Keene State alums on camera and lighting crews on the set of an independent film.
Fifty-five percent of Keene State seniors participated in an internship or field experience in 2021-22; 60% of Keene State seniors have participated in service learning, and 33% of Keene State seniors have participated in research with a faculty member.
This engaging, full-immersion component that is baked into Keene State's learning culture enables the college to maintain and strengthen relationships with local and state employers, helping to address workforce challenges, and amplifies the value of students' degrees.
Related Stories