Expanding Keene State's Borders On and Off the Field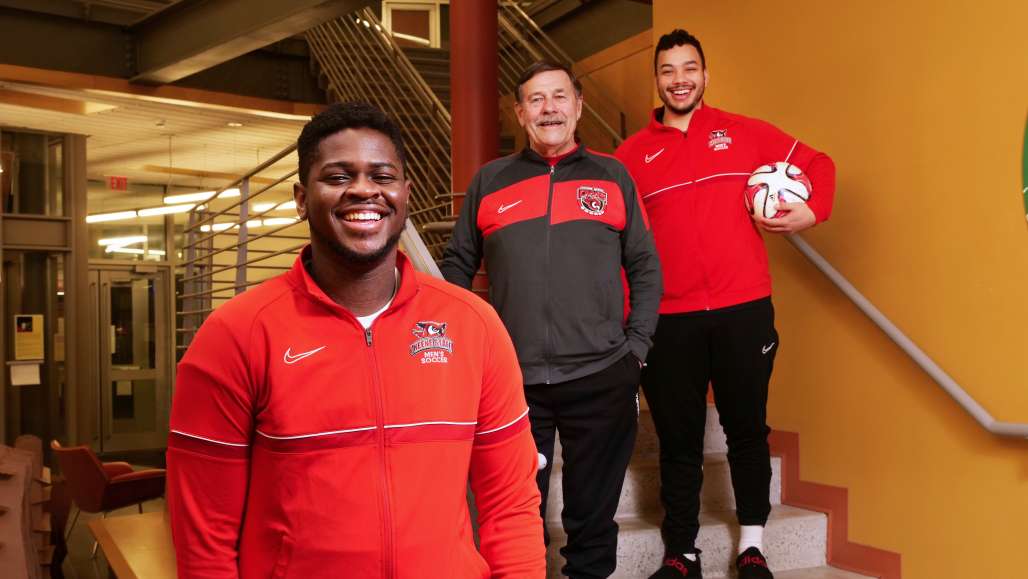 Refugee and International Soccer Players Make the Team
"The value of family and community."
In a few words, Keene State men's soccer Head Coach Rick Scott sums up what he has learned from the international players he has taken under his tutelage, many with refugee backgrounds.
Scott's commitment to international and refugee players began in 2014, when, in his first year as head coach, he saw Promise Kpee '18, Jacob Chiza '19, and Samuel Masumbuko '19 playing at Manchester Central and Manchester Memorial High Schools and was struck by their athletic talent. Scott learned from the young men's coaches that all three had lived for years in refugee camps after fleeing violence in their home countries, and that they had recently relocated to Manchester, NH—a designated area of national refugee resettlement.
Kpee, a refugee from Nigeria, and Chiza and Masumbuko, refugees from the Democratic Republic of the Congo, spoke multiple languages fluently, but English was not yet one. The young men were therefore struggling academically.
"My initial reaction was, if these guys can learn six different languages while living in a refugee camp, they can be successful at anything if given a chance," said Scott.
Scott worked with admissions to determine if Keene State had the right support resources for these students. The answer was a resounding "yes," starting with Scott himself. Since 2014, Scott's door has been wide open for his players. Several players with refugee backgrounds have lived with Scott over the years, including Yusufu Juma '22, a refugee from the Democratic Republic of the Congo, who lives with Scott currently, and Masumbuko, who lived with Scott during a year off.
"When I decided to take some time off from school for personal reasons, Rick said 'You don't have to go home, you can stay with me,'" said Masumbuko. "We built up a relationship, just like father and son. I wasn't even playing for Rick at the time, but if he cares for you, he makes sure you get yourself right."
Scott says the opportunity to spend intensive time with players has transformed him. "These young men amaze me every day. They really take care of each other because that's what they had to do in the refugee camps. I want to learn and share what they've been through, and I've found after a year and a half, they start to open up about their experiences. They've been through an awful lot."
Another important resource for these players has been the soccer team itself, which has provided a built-in network of academic support. "The guys have formed study groups, with the international students bringing their knowledge of different languages, including French and Italian, and the other players bringing English language knowledge. It's a two-way street and it's been awesome for team chemistry."
Indeed, since 2014 Scott's Owls have enjoyed a winning record and boasted an LEC Tournament Championship and NCAA Tournament appearance in 2019, along with numerous 2nd place finishes in the LEC. Scott says his diverse roster and the strong team chemistry they've developed is a big part of their success. In addition to students with refugee backgrounds, the team includes players from Armenia, Bosnia, Brazil, Cape Verde, Guatemala, and Italy. "The international guys are so personable, always the life of a party," said Scott. "We've had some get-togethers, and they will cook a lot of food that they used to live on, such as fufu, for the team. We learn a lot about each other's traditions, cultures, it's a fun group."
Perhaps the most important lesson the international players have shared is appreciating every opportunity they get. Said Scott, "The other players see that the international players appreciate things that you and I might take for granted, and that's been life changing. They are hardworking, very good in the classrooms, they don't miss a class. They're just beautiful people."
This mindset plays out both on and off the field, with the international and refugee students taking advantage of every available academic opportunity. Kpee, Chiza, and Masumbuko successfully pursued their degrees in Safety & Occupational Health Applied Sciences, and paved the way for other soccer players to follow in their path.
"These safety majors go out into the world and are dealing with people's lives," said Scott. "They have workers' lives in their hands. It's an incredible responsibility, but there is no better suited group of people for this career than these students, who have taken care of each other and their families, many under significant distress, for their whole lives."
While many international soccer players choose to focus on Safety & Occupational Health Applied Sciences, many choose other paths as well. Take Yusufu Juma '22, who is focusing on business management; or Clinton Mungeta 21, who is studying elementary education and French in addition to safety; or Mbambi Mbungu 25, who is a studio art major. "All have unique stories," said Scott, "and all bring an incredible range of talents, even while sometimes sharing a powerful personal narrative. The thing they do share is that they are hard working in the classroom, on the soccer field, and anything they do."
So where are Kpee, Chiza, and Masumbuko now? Promise is a safety coordinator for Granite Construction, one of the largest full-service general contractors, construction management firms, and construction materials producers in the U.S.
Chiza is working on his masters in safety education and is a safety manager for Delphi Construction in the Boston area.
And Masumbuko is senior safety manager for Holder Construction in Denver, and just had a baby girl in December 2021 with his partner and Keene State classmate Brittany Gravallesse '19.
"Without the help of Rick Scott, I wouldn't be where I am today," said Masumbuko. "Rick Scott said to me years ago, 'I will make sure you have a career that will lift you and your family,' and he helped me every step of the way to get that. He and the team were always there for me. You don't look at it as a team. It's family."
"Soccer was the impetus to get these young men here," said Scott, "but once their communities, as well as the Keene State community, saw that they were doing so well, it built a pipeline. It's a great story, what they've been able to do, and all of us are the better for it.
"As much as they've gotten out of Keene State, I've gotten just as much."
Related Stories