#OwlsUnited Health Education Campaign Promotes Healthy and Safe Return to Campus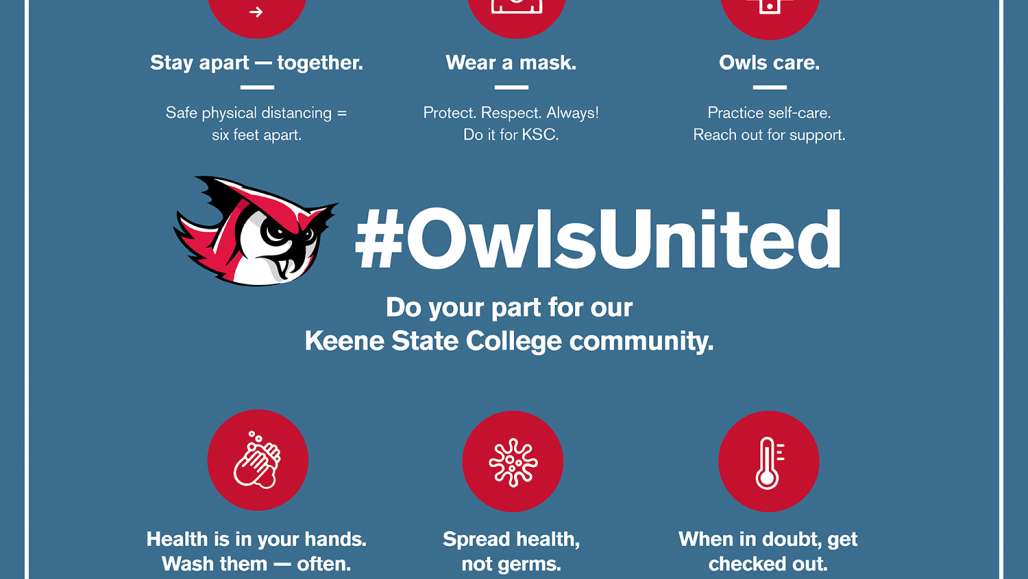 As students, faculty and staff return to the Keene State campus using safety protocols for a fall semester of classes, student activities and physically-distanced connection with each other, the college has kicked off a health education initiative called #OwlsUnited. It calls on every Keene State community member to take steps to be Owls United together, to keep the campus open this fall.
Six health and wellness precautions are highlighted in #OwlsUnited:
Stay apart – together. Practice physical distancing at 6 feet or more.
Wear a mask. Protect. Respect. Always!
Owls care. Practice selfcare and reach out for support when you need it.
Health is in your hands. Wash them – often.
Spread health, not germs. Cover coughs and stay home when not feeling well.
When in doubt, get checked out. Call the Wellness Center for advice.
These six areas of focus are communicated via video, social media, student and parent messages, campus signage and through partners in the City of Keene and the local business community. Students are actively part of the development of the campaign by providing their guidance and feedback on the messages, and most importantly, serving as spokespeople for the campaign. Faculty and staff are grateful for their involvement.
Emma Manderville, a public health major from Fairfield, CT, said, "We are very lucky to have the opportunity to return to the Keene State campus. I know many students, myself included, miss each other and the whole Keene State community, from classes to clubs. We want to be able to stay on campus during the fall semester. This campaign is vitally important to remind all of us what we have to do to keep our friends, professors, roommates and classmates healthy, so that we can stay on campus. I am so thrilled to be a part of this public health initiative!"
Keene State begins classes remotely on August 24, with in-person classes starting on August 31.
Related Stories