At the AEC: Internships Help Students Gain Career Experience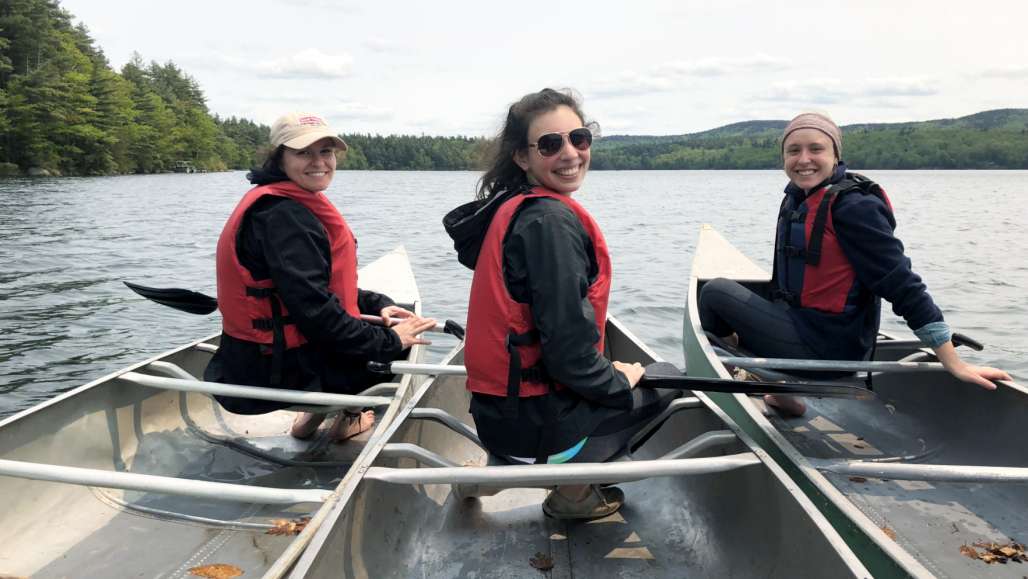 Now in its 20th year, the Academic Excellence Conference gives students the opportunity to present undergraduate research to their classmates, professors, and community guests. This Saturday, dozens of students will share their virtual presentations on topics that range from film theory to combating stress. Last summer, Katelyn Fournier, a senior from North Attleboro, Massachusetts, was chosen along with three others to do conservation research for the Harris Center for Conservation Education. Because of this work, she is now a presenter at the Academic Excellence Conference, discussing "The Significance of Internships: How Conservation Internship Experiences Benefit Undergraduates and Community Partners."
Katelyn is a biology major with minors in environmental studies and sustainability. Her love for the environment led her to the Harris Center, a nonprofit located in Hancock, New Hampshire. She spent two months over the summer conducting research and applying her studies to real life. "At the internship, we worked on four major projects, which were vernal pool documentation, tree inventory data, culvert assessment, and conservation easement monitoring," said Katelyn. She found the work very gratifying, despite long days hiking in the sun with the black flies and mosquitoes. "It is really rewarding knowing you go through all this labor and hard work, do all this research, and it leads to one end goal of preserving the natural world," said Katelyn.
At the Academic Excellence Conference, Katelyn will be doing an oral presentation with Julia Yates '20 and Kristina Tufo '21, who were also interns at the Harris Center. They will be reporting their findings from their research and going in-depth about the unique relationship the Harris Center has with Keene State. "These relationships between institutions really foster learning experiences for students and communities. Not only did we do field research but we worked within the community of Hancock and the surrounding schools with educational programs," said Katelyn. The presentation will promote the importance of undergraduate internships and how they create success and opportunities for students. This particular internship has been an amazing opportunity for Keene State Students and many alumni have used it as a stepping stone to launch their careers.
After graduation, Katelyn will start working with the Peace Corps doing climate change research and education in Mexico. Katelyn's experience at the Harris Center solidified her decision to do environmental conservation as a career. "It's one thing to learn about all these field methods in environmental studies and biology classes. It's another thing to actually go out there and do them," Katelyn said. She is grateful for this internship because of how it helped build skills for her future and gave her the confidence to know she was a good scientist. "Having an internship at the Harris Center was an absolutely amazing experience and it's definitely worth doing," she said.
The 20th annual Academic Excellence Conference will be held online on Saturday, April 18. Many presentations will be pre-recorded and available on demand. To watch Katelyn's presentation, "The Significance of Internships," and dozens of others, please visit the conference schedule page.
-By Kylie Hull '20
Related Stories