A Keene State Senior's Journey to a Physical Therapy Career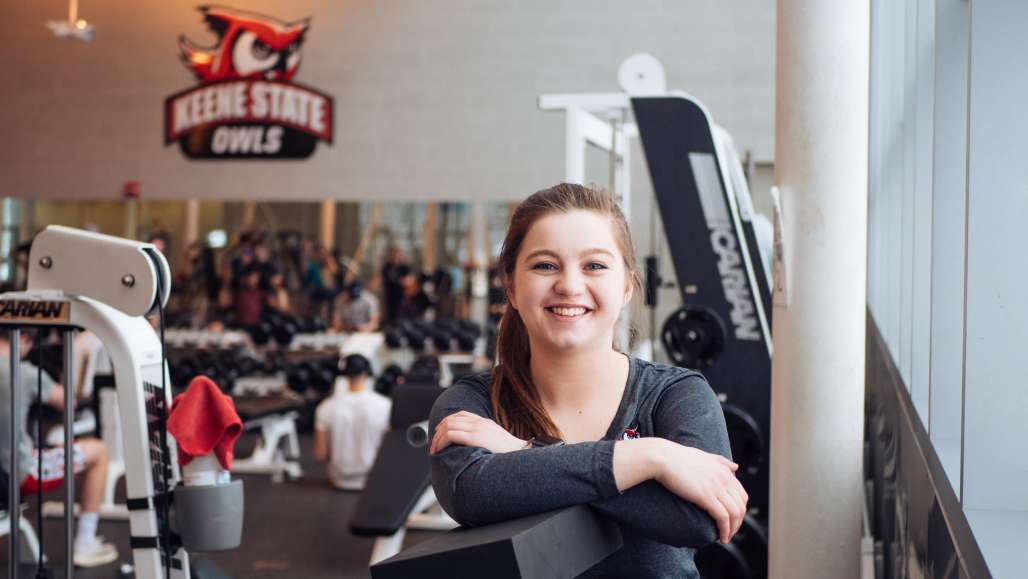 Deciding a major before coming to college is challenging, but when Carly Zuppe started physical therapy in her senior year of high school, she realized her passion for rehabilitation and helping others. This led the senior to the exercise science major here at Keene State, where she also decided to add a minor in biology. Carly's dream is to work as a physical therapist, but for now, she is enjoying her internship at Brattleboro Memorial Hospital doing pulmonary and cardiac rehabilitation. She is also a personal trainer at BodyWorks, the fitness center run by the exercise science department open to students and professors.
Carly feels the major is helping prepare her for her future career by giving her the confidence and experience of physical training. "I like to see more of the confidence you build within your clients or patients. Obviously physical health is important but that's naturally going to come when you're doing exercise regularly and pushing them with your program. I've seen a lot of growth in my clients, both physically and mentally and that's one of the biggest pieces that I enjoy about it," said Carly.
Carly spends a lot of her time in the gym and recently was promoted to being one of the student managers at BodyWorks. She is a member of Phi Epsilon Kappa honor society for human performance and the chapter president of the Delta Phi Epsilon sorority. Delta Phi Epsilon does a lot of service work around the Keene community and with specific philanthropies. They work with Anorexia Nervosa and Associated Disorders and the Cystic Fibrosis Foundation. Being a chief officer of her sorority has given Carly immense opportunities and leadership skills. "It's definitely a lot of work but it's so worth it. I feel very prepared. I've been in experiences that I never expected would have happened. It helped me learn how to work under pressure and I think on my feet more too," said Carly.
Carly selected Keene State because of how connected the college is with the surrounding community and the homey New England feel it gives off. Through the exercise science major at Keene State, Carly feels prepared to start her career and plans to pursue a doctorate in physical therapy. She is able to learn about human anatomy and technical physical training in her classes, but also able to make personal connections with clients and witness how her studies can be applied in real life.
-By Kylie Hull '20
Related Stories