Music Performances at Keene State: February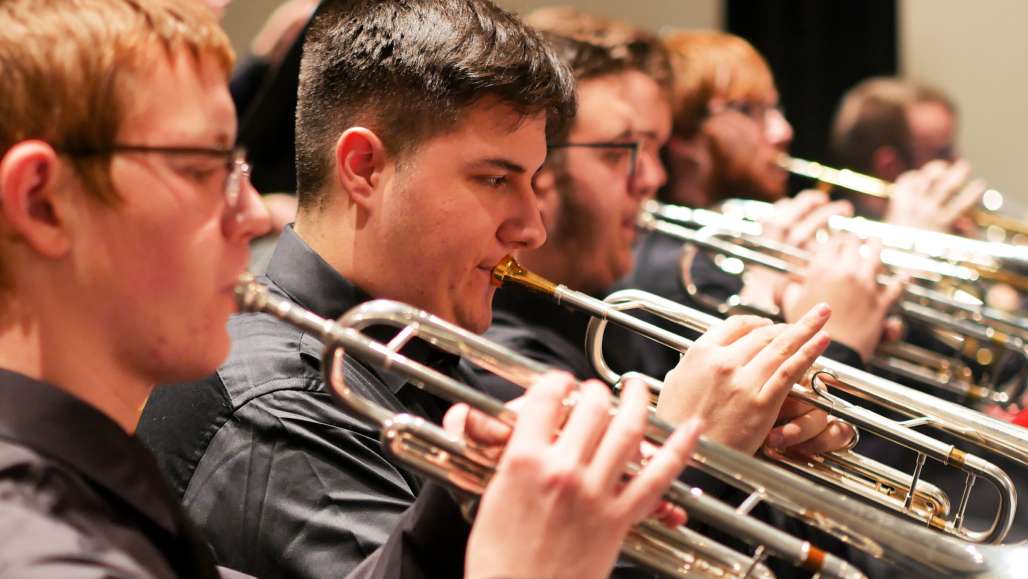 Wednesday, February 5, 2 p.m.
Ecuadorian Flutist Sandra Taqueres
Alumni Recital Hall, Redfern Arts Center
An Ecuadorian flutist trained at the National Superior Conservatory of Music in Quito, Ecuador, Sandra Taqueres performs on campus as part of a residency at Keene State College that includes a number of events in the region and the Northeast.
Taqueres took first place in the XXVI Contest of Classical Music of Youth held at the Ecuadorian-German Cultural Center of Guayaquil. She has participated in international flute festivals and in master classes with teachers such as Angeleita Floyd, Sheryl Chen, Sergio Palotelli, and Michel Bellavance. She currently serves as a member of the National Symphony Orchestra of Ecuador as flutist and flute soloist.
At Keene State, she will collaborate with guitarist and composer Dr. José Lezcano, professor of music; and with Dr. Christina Wright-Ivanova, assistant professor of piano, in works by composers of the Americas. Works for flute and guitar to be performed include Astor Piazzolla's sensual "History of the Tango"; Lezcano's vibrant and syncopated "Sonatina Tropical"; and Keene State professor Dr. Heather Gilligan's evocative "Peregrine" for flute and guitar. The repertoire for flute and piano includes Frank Martin's 1939 "Ballade," an essential modernist work of the flute canon; and Ecuadorean composer Gerardo Guevara's "Dialogos," an exciting work which comingles nationalist folkloric references with European modernism.
The concert is free and open to the public.
Taqueres's residency also includes the following events:
Saturday, February 1: North End Music and Performing Arts Center's Winter Concert Series, House Concert with Dr. Christina Wright-Ivanova, pianist and artistic director.
Wednesday, February 5, 3 p.m.: Clinic for Keene State flute students following 2 p.m. concert.
Wednesday, February 5, 7:30 p.m.: Keene Public Library, Auditorium Concert Series.
Thursday, February 6: Berklee College of Music, Boston, Massachusetts
Saturday, February 8, 11 a.m.: Olivia Rodham Library, Nelson, New Hampshire
Saturday, February 8, 7:30 p.m.
Faculty Performance Series: Cameron O'Connor
Alumni Recital Hall, Redfern Arts Center
Keene State welcomes Dr. Cameron O'Connor, winner of its 2019 Call for Scores, who will present a lecture recital and clinic. The Call for Scores enables students and community members to meet and work with composers from across the country and globe, and to engage in thoughtful discussion about the compositional process and related topics. This year's international composition contest welcomed applications from 22 states and four countries.
The evening lecture recital will be full of exciting pursuits, beginning with a presentation of the winning composition for solo guitar, performed by the composer himself. O'Connor will then discuss and demonstrate historical connections between the theme and variations form and the guitar, lute, and vihuela instruments. Following a brief Q&A, O'Connor will conclude the evening with a guitar clinic, working with Keene State music students in a masterclass setting.
The concert is free and open to the public.
Friday, February 14, 12:15 p.m.
Lunch Hour Concert
St. Bernard's Church, Keene
Free, family-friendly, and open to the public: Brighten up your workday with the Keene State College Choirs Lunch Hour Concert. Conducted by Dr. Sandra Howard and Dr. Matthew Leese, the performance will feature sacred choral works from the Medieval to Contemporary eras. Attendees are welcome to make a good will offering to St. Bernard's Church.
Thursday, February 20, 7:30 p.m.
Keene State College Concert Band
Redfern Arts Center
The Keene State College Concert Band, under the direction of Dr. John T. Hart Jr., will present its second concert of the academic year. The program, Outsider Perspectives, will feature works by Chance, Ticheli, Bizet, Grainger, and Colgrass. Each piece on the program represents a composer's musical depiction or perception of a culture other than their own. The audience will hear two composers' takes on Korean folk music, one formed during the Korean War and one from as recent as 2013; a classic example of musical exoticism in Bizet's Carmen Suite; an Australian-American's satirical view of English folk music; and a Canadian-American composer's reverent take on Balinese music. Tickets are $10 for the general public, $5 for senior citizens and youth, and free for KSC students.
Friday, February 21, 11:45 a.m.
Kirsten and Alyssa Becker, Steinway Campaign
Lantern Room, L. P. Young Student Center
Music majors and sisters Kirsten and Alyssa Becker will perform for CALL students and the campus community. Keene State alumnus Jacob Huggins will discuss the impact of the Steinway campaign and his experiences studying music at Keene State. Faculty and staff Christina Wright-Ivanova, Heather Gilligan, and Marilyn Shriver will also address the audience. Free and open to the public.
Wednesday, February 26, 7:30 p.m.
Faculty Performance Series: A Romantic Evening in Prague and Ljubljana – Passion, Romance, and Nostalgia
Alumni Recital Hall, Redfern Arts Center
Dr. Christina Wright-Ivanova of the piano faculty is joined by special guests Erica Brookhyser, mezzo soprano; Klaudia Szlachta, violin; and Aron Zelkowicz, cello, in this concert of solo piano and chamber works by Janáček, Dvorák, Škerjanc, Pavčič, and Smetana.
This program highlights the profound beauty and depth of Czech and Slovene Romantic classical music. It showcases the use of folk culture within art music, as well as a strong pride and sense of identity during the nineteenth century, when nationalism was sweeping across Europe. This music heard in this concert is filled with a deep strength of character and resolve, as well as an incredibly powerful romanticism, lyricism, and honesty.
Tickets are $10 for the general public, $5 for senior citizens and youth, and free for KSC students.
Related Stories