Lessons in Learning: Senior Hones Her Skills as a Student Teacher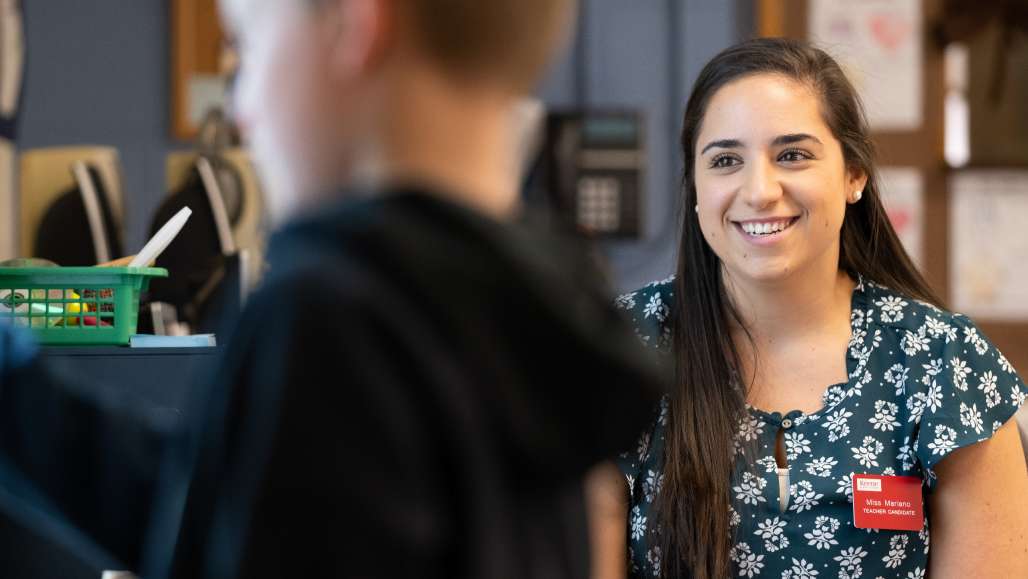 Do you picture yourself front of a classroom? The first step to getting there: visiting Keene State College's campus and checking out the Education Department.
What's great about studying education at Keene State?
Ask Lauren Mariano, who has wanted to be a teacher since she was a kid playing school. When it came time to apply to college, she remembers, "people kept telling me I should really look at Keene." She visited, she says, and "it just felt like home. It's a warm, welcoming campus. As an education major, I've had an incredible experience here."
She likes the focus on learning about children – what makes them tick, why they think the way they do. "To do a good job of teaching, you have to be able to understand and work with students," she says.
And she loves her professors. "They're welcoming and caring, and they want you to succeed," she says. Education faculty members typically have experience teaching in elementary and secondary schools, so they can offer practical advice. That's come in handy for Lauren this semester, as she's student teaching in a second-grade classroom at Hinsdale Elementary School.
A senior at Keene State who hails from Newton, Massachusetts, Lauren is working on dual degrees in elementary education and sociology. Her sociology coursework, she's finding, will be very helpful in her teaching career. "This is going to help me figure out how to work with everyday interactions with parents and others teachers," she notes – and help her understand why people act the way the do and respond the way they do.
Lauren's active on campus as co-president of the education honor society, Kappa Delta Pi, and as a member of Big Brother Big Sisters. She also organized an ongoing book club that brings elementary ed students into the classroom at Wheelock School, an elementary school a block from campus. The idea stemmed from a book club she was involved in through a class her sophomore year, which brought a diverse group of people in from the Keene community to discuss The Glass Castle, a memoir by Jeannette Wells.
She really appreciated hearing the perspectives of the older local residents, and thought it would be great to bring together college students with school kids to talk about books. "I thought it would be really awesome to do this with elementary students, to read a book with them and have discussions, and develop our literacy skills while also developing theirs," she says.
This semester she's working with kids full time in Hinsdale. As a student teacher she has regular duties in the classroom and is required to take over the class entirely for two separate weeks. "It's going really well," she says. "My students are awesome. They're so kind and thoughtful. I couldn't have asked for a better group of kids." Her sponsoring teacher is supportive, too – the two worked together last year when Lauren spent time in the same classroom through her Methods course.
Her advice for future teachers? "I've learned in my time student teaching that it's okay to make mistakes," she says. "Everybody knows you're there to learn and practice and get better, so just do the best you can."
Learn more about Keene State's education program.
Related Stories