Education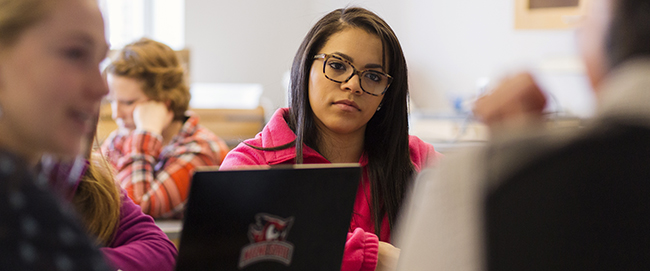 Drawing on its legacy in teacher preparation, including NCATE accreditation since 1954, KSC's Education program integrates the liberal arts with professional training at all levels from early childhood through high school. All Education majors must also declare a second liberal arts major.
---
Do You Want to Be a Teacher?
The biggest strength of the program is the faculty. The professors are truly dedicated to helping each student achieve their own potential. Thanks to their support, I have spoken and presented at many conferences, and I've also been able to tutor math, travel abroad, and play on the women's soccer team while dedicating numerous hours to my studies."
–
Brittany Boscarino
2014,
Education/Mathematics
Across the state, nation, and around the world, teachers trained at Keene State College are in the classroom every day, working with students at all levels of ability and talents, teaching the academic and life skills that lead to happy and productive lives. Do YOU want to be a teacher?
Our mission is to prepare highly effective teachers who utilize research-based teaching practices and create developmentally appropriate educational environments for diverse learners. We integrate liberal arts knowledge and professional preparation for each program we offer, and incorporate state and national standards for each specialty area. Keene State College has been an NCATE-accredited institution since 1954. Each education program option, from preschool through high school, meets state and national standards.
---
What Does It Mean to Be a Teacher?
Becoming a teacher means hard work.
All students seeking to graduate with teacher certification must complete:
KSC's Integrative Studies Program
All of the requirements for an Education major or one of the specialized K-12 programs (Physical Education, Dance Education, Music Education)
All of the requirements for a liberal arts major in an academic content area (if completing an Education major)
Becoming a teacher means having practical, hands-on experience before you graduate.
All students seeking to graduate with teacher certification must complete:
At least two semesters of practical field placement work in schools (or child care centers) with highly competent teacher/mentors
A full-time, semester-long student teaching experience in an approved partner school
Becoming a teacher means being accountable.
All students seeking to graduate with teacher certification must:
Take several national qualifying tests and pass with acceptable scores
Demonstrate high standards in personal and professional dispositions
Maintain a GPA of at least 2.5
Becoming a teacher means being ready to learn and grow.
All students seeking to graduate with teacher certification will:
Learn the art and science of teaching specific subject areas
Take coursework in child development, historical perspectives, and theories of learning
Understand how to work with diverse learners and to differentiate instruction to meet the needs of every child
---
From Early Childhood to grade 12, from English to Dance, Keene State offers education programs at every level and in a multitude of subject areas. More about Who Do You Want to Teach?
---
Education faculty members believe in the power of teachers to have a positive impact on the lives of children and families. We will teach you, coach you, advise, support, and work with you to be the best teacher possible. We expect that you will be engaged in your achievement, reflective about your strengths and your needs, and ready to achieve excellence. We believe that KSC's motto says it best: Enter to learn, go forth to serve! More about Study with Professional Educators
My education classes with Dr. Cuper—she is a phenomenal teacher, and has helped me stay inspired to be a teacher. She challenges us to really think and she is always pushing us to go beyond what we think we are capable of. I have so much respect for her. I see her as a role model, and know that I will be in contact with her after Keene."
---
Your Path to Certification
Earn a Master's Degree in One Year
Did you know that there are two programs specially designed for KSC graduates who want to earn a Master's degree in one year? One program leads to an additional certification in special education PLUS a Master's degree; the other leads to a specialization of your choice PLUS a Master's degree in Curriculum and Instruction. (Both require completion of the bachelor's degree and a teacher certification program before admission).
Undergraduate students desiring to become certified teachers must apply and be accepted into education preparation as sophomores. This program, administered by the Educator Preparation Office, coordinates the education and certification of teachers across all academic programs and works with current students and cooperating field sites to ensure that each student has a successful student teaching experience. Continued progress in the education major requires meeting many benchmarks, including testing, GPA, and dispositional requirements that are overseen by the Educator Preparation Office; faculty and staff will support you in meeting these benchmarks.
---
Student Teaching Placements and Partnerships
The Marlborough School and Keene State College have been working together for over three years to create a pilot program for a partnership that benefits the children of Marlborough and college students in the elementary teacher education program at Keene State College.
Keene State has developed a network of area elementary and secondary schools and child care centers as partners to provide well-supervised field experience placements and student teaching experiences that align with the Conceptual Frameworks underlying our programs. Here are a few examples:
Marlborough (NH) School teachers work with KSC education faculty and student teachers on an innovative program to bring aspiring teachers into today's highly diverse classrooms.
Winchester (NH) Elementary School is working with KSC faculty and elementary education students to pilot a program that encourages children to be fascinated by scientific inquiry, while inspiring KSC elementary education students to become highly competent teachers of science.
---
Accreditation and Why it Matters
Better prepared for new, more demanding licensing expectations.
"The largest research study to date on teacher qualifications, conducted by the Educational Testing Service and released in 1999, showed that graduates of NCATE-accredited institutions significantly outperform other candidates on state licensing exams. ETS concluded that attending an NCATE institution increases the likelihood that candidates will meet state requirements. In short, you will be well prepared for challenges in the classroom."
All Keene State education programs are accredited under the rigorous standards of NCATE, the National Council for Accreditation of Teacher Education (moving to CAEP, the Council for the Accreditation of Educator Preparation). Each year, KSC graduates more certified teachers than any other college in New Hampshire.
What does accreditation mean to a student? Teacher licensure is a responsibility of each state, and every state maintains its own set of requirements. Attending an NCATE-approved program makes it easier to get licensure in other states, as the other state understands the level of quality of your teacher education program. Fewer than one-third of teacher preparation programs in the United States are NCATE or CAEP-approved.
---
Contact Education
Wise up!
Contact Admissions
Request information
Email a professor for more information.
Education
Felicia Favreau
Administrative Assistant
603-358-2301
Admissions Office
800-KSC-1909
229 Main Street
Keene, New Hampshire 03435