Journalism Major Takes Inspiration from Professors and Classes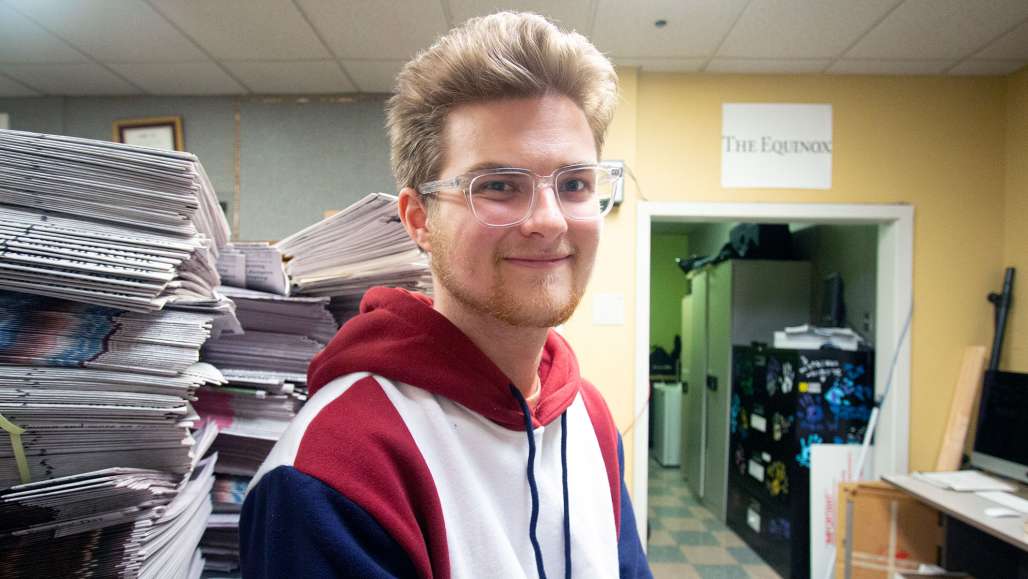 When Jack Hanson '21 came to Keene State, his academic interests were varied. He had a lot of options to explore and many career paths open to him. During his first two years, Jack took classes in more than 10 different areas of study before finding a home in the Journalism Department.
After taking Digital Journalism and Writing for the Media, Jack said, "All of a sudden, my skills started coming together and it was very apparent that journalism is what I need to be doing." The professors in the department are one of the main reasons why he chose journalism. "There were a few professors that really pushed me to not give it up."
The Media Production course opened the door for Jack to become the student life editor of The Equinox, the student-run newspaper. Next, Jack became the business manager for the newspaper, where he manages finances, communicates with vendors, and works with administration. "My experience with The Equinox has honestly been life changing," Jack said. "The Equinox has given me real-world experience and brought me out of my comfort zone."
Jack recently planned a five-day trip for The Equinox student leaders to attend the National College Media Convention in Washington, DC. The convention hosts info sessions for students running college media outlets on a wide array of topics with notable speakers. At the convention, The Equinox was awarded the Online Pacemaker Award for outstanding student journalism. "Winning this award means that we have one of the best online newspaper websites for a college newspaper in the country," Jack said. "It was a feeling of coming together and also celebrating the hard work we've done to get the award. It was not easy, but it was worth it!"
Jack also says that with his focus in public relations, he does have interest in working directly with nonprofits after college. "Any opportunity that comes to me that I will enjoy, I want to take," said Jack. One of Jack's most defining moments of being in the Journalism Program at Keene State came from one of his public relations classes. "I learned from Professor Marianne Salcetti that we are the voice of the people. It is our responsibility to give news to the public regardless of what that news is, and that is what pushes me," he said. Jack credits the department with building his skills to not only be an informed citizen, but an active citizen.
Outside of the classroom, Jack serves as the class of 2021 treasurer and elections chair in Student Government. Jack is also the public relations director for the Feminist Collective, a student-run club. In his free time, Jack loves to go on runs, work out in the Spaulding Gym, and participate on the intramural volleyball team.
For incoming students interested in the Journalism Program, Jack offered this advice. "Go into it knowing that you are going to get a lot out of it if you put the work into it. You will get recognized and you will get noticed," said Jack. "Dive into it and let yourself open up and do things that you never thought you would do before.
-By John Budenas '20
Related Stories