Theatre and Dance Presents 'As You Like It'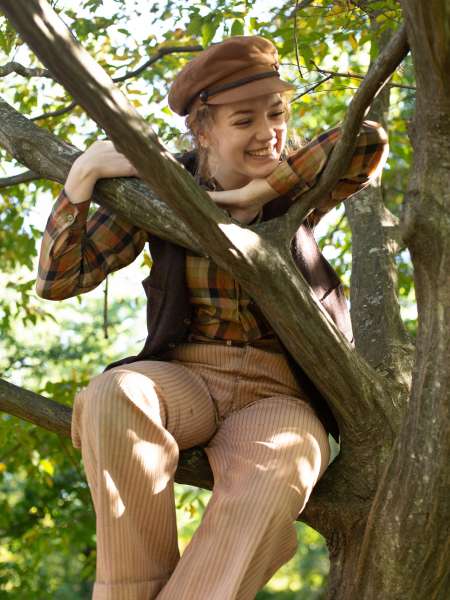 Shakespeare's beloved
comedy brims with music,
movement, and
philosophical musings on
life, nature, and love
As You Like It, a joyful celebration of life and love, will be presented Wednesday to Saturday, November 13 to 16, by the Keene State College Department of Theatre and Dance. Performances begin at 7:30 p.m. each evening in the Main Theatre of the Redfern Arts Center. On Friday, November 15, an early morning performance starts at 9:30 a.m.
Tickets are $12 for adults, $8 for seniors and youth, and $6 for Keene State students. For tickets, call the Redfern Box Office, 603-358-2168, or order online.
The play is directed by Keene State Theatre Assistant Professor Jeannie-Marie Brown, who noted that an uplifting exploration of love would be timely in today's climate. The play was first performed at the Globe Theatre in the tumultuous year of 1599 by Shakespeare's company, the Lord Chamberlin's Men. The play departed from the customary drama of the period in England, and reportedly provided a jolt of realism rarely seen by Elizabethan audiences. The Keene State production of As You Like It focuses on creating an experience culturally relevant to our time by creating a lively and fun space to ponder the questions raised by Shakespeare in 1599.
Shakespeare used the play to provide social commentary, Brown said, in a way that escaped censorship and entertained audiences. "I found parallels between our present world, the period in which the play was written, and the early 1970s. Theater audiences today are very different from the rowdy attendees in 1599," she said.
Audience members are encouraged come dressed in their favorite 1974-inspired outfits, and those who arrive early can create a poem or a drawing to reflect their thoughts on love. The cast will incorporate these reflections into the world of the play. "For with this production of As You Like It, we are exploring the idea of spectacle, theatricality, and what it really means if "All the world's a stage," said Brown.
The production includes six songs by Christopher Chappell, which are sung by cast members and feature alumna Katrina Feraco of the class of 2017. Theatre Professor Celine Perron designed the set, guest artist Stephen Petrilli designed the lighting and guest artist Joseph Blaha designed the costumes.
The actors are students Laughlin Hentz, Harvard, MA; Talon Petrosino, South Burlington, VT; Jaden Rogers, Williston, VT; Patrick Mullen, Cedar Grove, NJ; Mariah Palmer, Nashua, NH; Cassidy Doherty, Marshfield, MA; Camden Bubblo, Cumberland, ME; Samuel Kingsberry; Alex Lamoureux; Ashley Jones, Plaistow, NH; Alexis Bowley, Enfield, CT: Max MacLeod, Hollis, NH; Justine Ann Sanchez, Washingtonville, NY; Sean Gregoire, Derry, NH; Darius' Sanchez, North Canaan, CT; Patrick Eckland, Plymouth, MA; Grace Kennett, Claremont NH; Erika Walker, Saugus, MA.
Emily Fitzgerald of Hampstead, NH, is stage manager and Caroline Hentz of Harvard, Mass is assistant director. Molly Delaney of Swampscott, MA, Francisco Fialho of Marlborough, MA, and Skyla Carrasquillo of Middleboro and Wareham, MA, serve as assistant stage managers.
Learn more about Keene State's Theatre and Dance Department.
Related Stories