Music Performances at Keene State: October 2019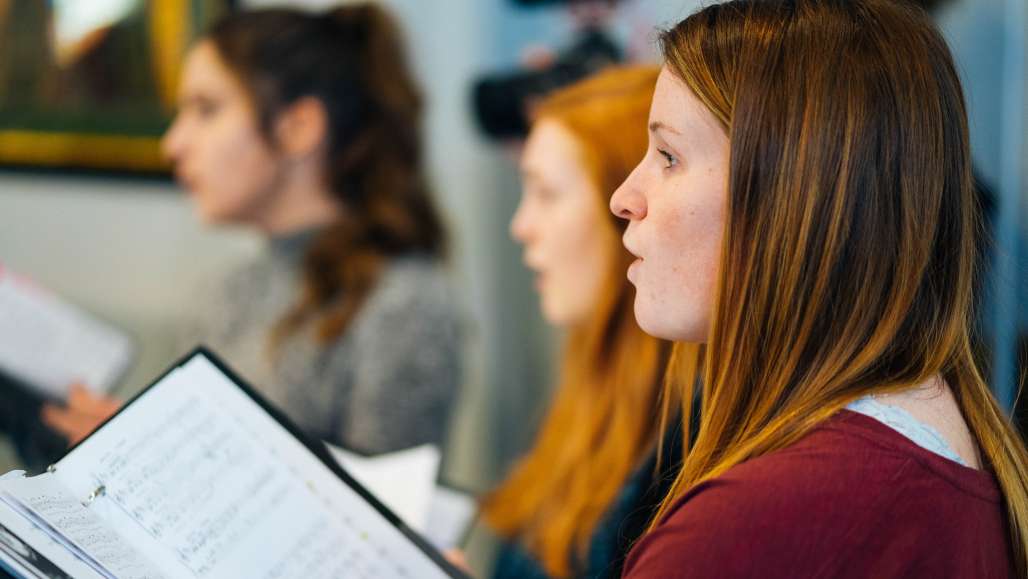 In October, Keene State's Music Department presents a lecture and three concerts, all open to the public. A talk on conducting is followed by a performance by members of the voice faculty, an exchange performance with the musicians from Keene's sister city, Einbeck, Germany, and a High School Choral Festival performance. Read on for details!
Thursday, October 3, 4–5:45 p.m.
Expressive Conducting for All Ages
Redfern Arts Center, Room 101
Glen Asdit, director of bands at the Hartt School, presents a lecture, "A New-Old Approach to Conducting Pedagogy: The intersection of Rudolf Laban, James Jordan, Jerry Schwiebert, and Tia Chi Chih. Asdit writes: "In my quest to better understand the principles of conducting and conducting pedagogy, I have been drawn to the connection that each of the four mentioned influences have with one another and have on one another." For more information, contact Sandra Howard at showard1@keene.edu or 358-2344.
Sunday, October 6, 3 p.m.
Faculty Performance Series: Voice Faculty Recital
Redfern Arts Center, Alumni Recital Hall
Tickets $10, $5 for seniors, free for Keene State students
Keene State professors Daniel Carberg, tenor, and Matthew Leese, baritone, and vocalists Evangelia Leontis, soprano, and Pamela Stevens, mezzo-soprano, will perform a recital of songs from throughout the ages. Beautiful airs de cour (French courtly songs), contemporary and clever pieces by New Zealand composer Anthony Ritchie, dramatic songs by Richard Strauss, classic pieces by American composer Aaron Copland, songs from The Great American Songbook, as well as familiar jazz standards are all included in this rich and eclectic recital. Guest performers include collaborative pianist Vladimir Odinokikh and Nathaniel Cox, who plays theorbo, a large, lute-like stringed instrument. Professor Carberg, coordinator of vocal activities and organizer of this event, will showcase his love of Renaissance and Baroque music as well as his passion for jazz.
Wednesday, Oct 9, 7 p.m.
Ensemble Recital Series: Keene State and Einbeck Choir Concert
UCC Church, Keene, 23 Central Square
$10 suggested donation; free for Keene State students
Choirs from the partner cities of Keene and Einbeck, Germany, will present a collaborative choral-orchestral performance at the United Church of Christ in Keene. A pre-concert lecture by Dr. Joseph Darby of Keene State's Music Department, will begin at 7 p.m., and the performance will follow at 7:30. Part of an eight-day choral-cultural exchange in which the College and the city will host 25 musicians from Einbeck, the performance will feature choirs from Keene State College, directed by Dr. Sandra Howard and Dr. Matthew Leese; Keene High School, directed by Danielle Heeran; United Church of Christ, directed by Beverly Caldon; and Kantorei, Einbeck's auditioned mixed choir, directed by Ulrike Hastedt.
These choirs, along with community singers, will combine with strings and organ to perform Schubert's Mass in G. Featured Keene State College faculty soloists are Dr. Evangelia Leontis, soprano; Dr. Daniel Carberg, tenor; Dr. Matthew Leese, baritone; and Dr. Sandra Howard, conductor.
Friday, October 18, 12:15 p.m.
Festival performance: Cantate!
Redfern Arts Center, Alumni Recital Hall
Free admission
The tenth annual Cantate! High School Choral Festival culminates in a performance of 200 high school students along with Keene State's Concert Choir, Chamber Singers, and Vocal Consort. They will sing excerpts from Franz Schubert's Mass in G. Participating high school choirs are Keene High School, Conant High School, Monadnock Regional High School, Newport High School, and Mascenic High School.
The high school singers arrive on campus early for a large group warm up led by Dr. Daniel Carberg of the Keene State Music Department. Each choir then performs two selections followed by a feedback clinic with one of the College's choral and voice faculty clinicians, Carberg, Dr. Sandra Howard, and Dr. Matthew Leese.
Each October, the Keene State Music Department and student chapter of the American Choral Directors Association co-sponsor festival to provide performance and clinic experiences to high school singers in New England. This annual choral festival is free and open to the public. For more information about joining Cantate!, contact Dr. Sandra Howard at 603-358-2344 or showard1@keene.edu.
Coming in November:
November 6: The Mana Quartet, 7:30 p.m.
November 18: Effective Assessment in the Backwards-Designed Music Program, 2 p.m.
November 13: Guitar Orchestra and Latin American Ensemble, 7:30 p.m.
November 14: Percussion Ensemble, "A Survey of Afro-Cuban Rhythm," 7:30 p.m.
November 17: Junior and Senior Voice Ensemble, 3 p.m.
November 20: Keene State Orchestra, 7:30 p.m.
November 21: Keene State Concert Band, 7:30 p.m.
November 22: Keene State Jazz Combos, 7:30 p.m.
November 24: Keene State Saxophone and Brass Ensembles, 3 p.m.
November 25: Opera Workshop, 4 p.m.
Watch for details!
Related Stories