Student, Faculty Percussionists Join Large-Scale Performance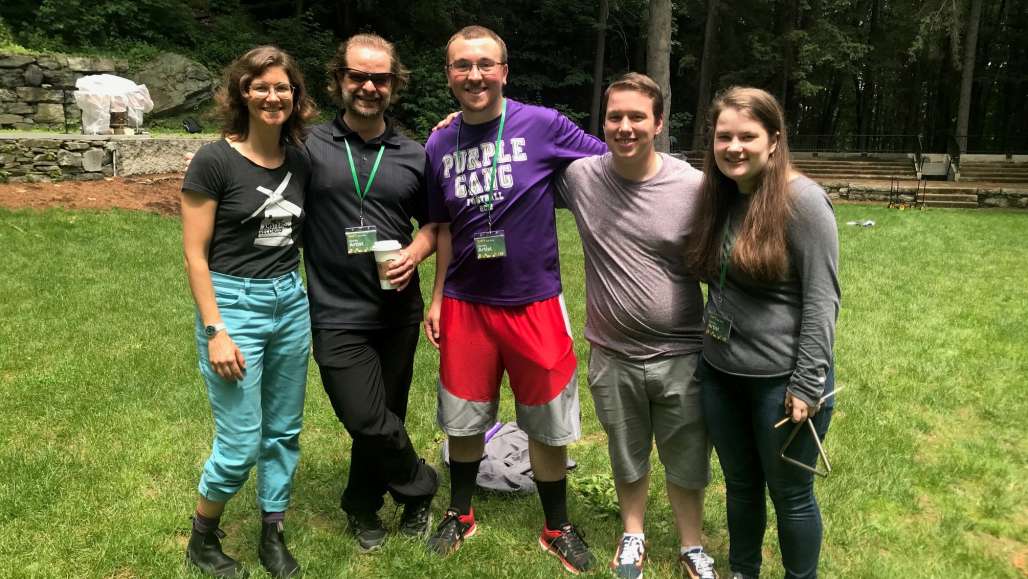 "Wander through a landscape of instruments—conch shells, gongs, drums, glockenspiels and more—in a subtle duet with the ambient sounds of nature."
Sound cool? It is!
Inuksuit, the musical piece described above, is staged regularly around the Northeast and around the US, and has become an annual event for some Keene State percussionists. In June, two Keene State students and an alumnus joined Resident Artist Christopher Swist and Music Lecturer Amy Garapic – who also directed the piece – and a few dozen or so other percussionists in an outdoor performance of Inuksuit on the campus of Dartmouth College.
Named for stone markers used by Inuit and other native peoples, Inuksuit was written by Pulitzer Prize-winning composer John Luther Adams. It's designed for nine to 99 musicians who are widely dispersed in an outdoor area (though it's been performed indoors, too).
This year, the two faculty members invited students Christian Terry and Cora Dykens and alumnus Jeremiah Burr to take part.
"Inuksuit has quickly established itself as standard percussion repertoire," says Christopher Swist. "John's work is a sublime combination of tradition, community, nature, timbre, and technique. This composition begins from nothing, crescendos, and then fades into birdsong from flutes, glockenspiels, and the actual birds in time and space. You can perform it for the first time or the tenth time, you always meet new colleagues while connecting with old ones, and each performance will be completely unique."
Related Stories