Students Travel to New York City for AIDS Activism and World Pride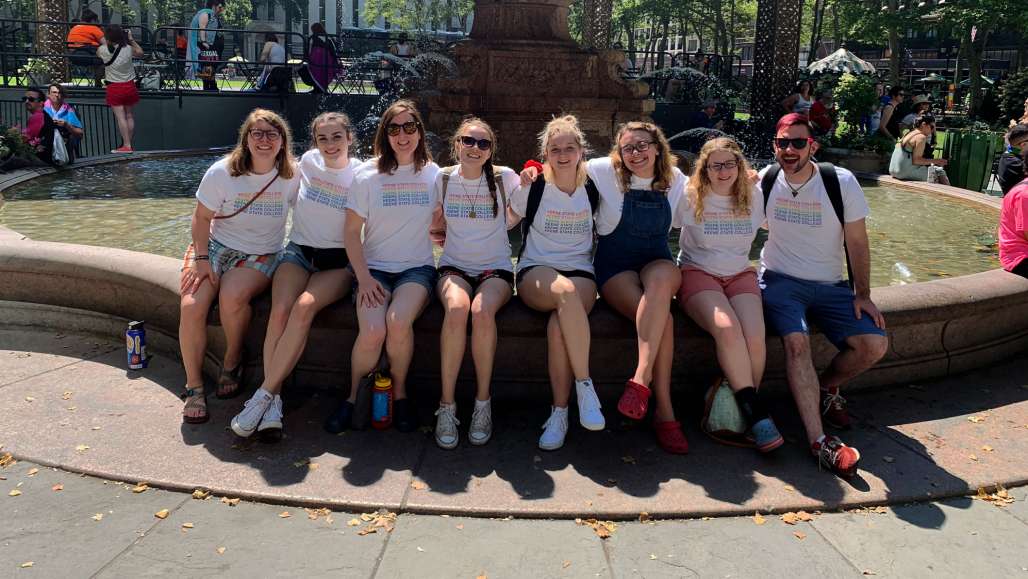 Did you know that one in seven people who are living with HIV don't know they are infected? This was news to Keene State students Emilee Haselton '21 and Meghan Gauss '21. Emilee's interest in growing her knowledge on this topic was the main reason why she chose to participate in the AIDS Activism Alternative Break. She said, "there is no better way to learn than having hands-on experience."
Alternative Break is a program sponsored by the Keene State College Community Service Office that gives students, professors, and staff the opportunity to travel, both domestically and internationally, and volunteer in a variety of service projects. These trips can span from a weekend to a little over a week. Each Alternative Break program consists of service, education, and reflection about a specific social justice issue.
From June 23 to July 1, 2019, an Alternative Break team of eight Keene State students, alumni, and staff traveled to New York City to work with the Gay Men's Health Crisis (GMHC) for AIDS Activism. GMHC has been a leading contributor in the fight against the AIDS epidemic since the disease's spike in the 1980s. This Keene State group had the honor of doing service with them for a full week.
The team served hot meals to the HIV positive clients of GMHC, sorted clothing donations, helped with research projects, filed paperwork, and made safer sex kits. The lunch service was both Meghan and Emilee's favorite part. Meghan explained that she loved this project because, "we got to hear their stories."
As part of the education component of Alternative Break, participants also learned about transgender awareness, HIV 101, substance use, and received training on how to spot an overdose and administer Narcan. They joined an ACT UP NY meeting and a GMHC Action Center Meeting. Alternative Breakers also had the opportunity to have a question and answer session with GMHC CEO Kelsey Louie. As their week of service came to a close, participants took part in Pride activities, such as the Stonewall 50 Commemoration Rally, Queer Liberation March, and the World Pride March, to celebrate diverse communities. Altogether, these activities gave the participants a unique form of education on the topic, which is a key part of service.
Meghan added that Alternative Break is a "really welcoming family" and that everyone looking for their place on campus should consider joining. To find out more about Alternative Break and how to get involved, visit Alternative Break.
- By Madison Olsen '20
Related Stories