Student Research, Internships Lead to Job for 2019 Grad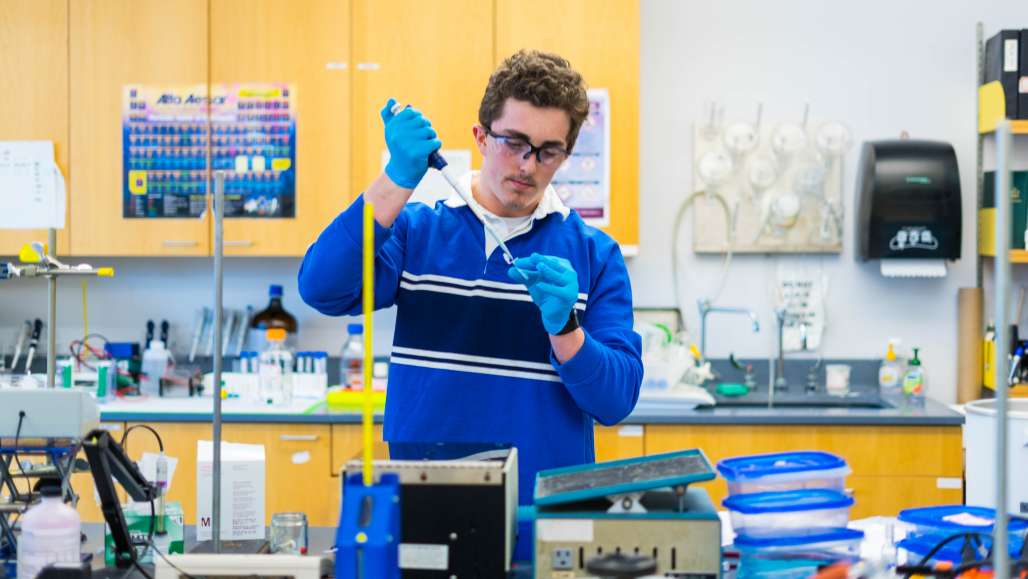 Maxwell Foisey '19 graduated magna cum laude from Keene State College on May 11. Three weeks later, he was settling into a job at Dartmouth College and emailing his Keene State professors to thank them and give them his new contact information.
"I wouldn't be here if it wasn't for the support I had at Keene State," he said of his position as a research assistant at Dartmouth's Geisel School of Medicine. "I had, very early on, great connections with professors."
Max, a biology major, coupled undergraduate research at Keene State with summer research internships at Dartmouth for an experience he described as "the small-school experience of Keene State and the big-school facilities at Dartmouth's Norris Cotton Cancer Center."
Arriving on campus as a sophomore transfer, Max – who hails from Concord, New Hampshire – changed his major a few times but settled on biology. He had some free time and emailed professors, asking if he could work with them in their labs. He landed in Dr. Jason Pellettieri's lab, working with flatworms on genetics research. He also worked with another Keene State professor, Paul Baures, who is studying proteins involved in cancer cells.
But professors here also pointed Max to off-campus internships, and he landed a spot in an oncology research internship program at Norris Cotton. He spent two summers there in the lab of Dr. Steven Fiering; over the winter break this year, he was offered a full-time position there after graduation.
He's doing a broad array of work there, and will be taking the lead on a new project looking at immunotherapies in cancer.
"It's really great to be here," he said. We have such a great facility."
Max's long-term plans include completing a PhD – he's currently looking at graduate schools with an aim to enroll in fall 2020. After that, he hopes to work in academia. "At Keene State I had the opportunity to tutor multiple students," he said, "and I just really enjoy teaching. I find it fun to be able to break things down for them. Seeing them reach that 'aha' moment is really cool."
"Aha" moments are part of what drew Max to biology. "I like the idea of exploration," he said. "You can take a topic and really tease it out, and become an expert in your own way. I think research as a whole is interesting."
His suggestions for students new to college? "Ask about different opportunities," he said. "Ask questions. Bug your professors. That's what they're there for."
Related Stories