Students Receive New Steinway Pianos for Learning and Performing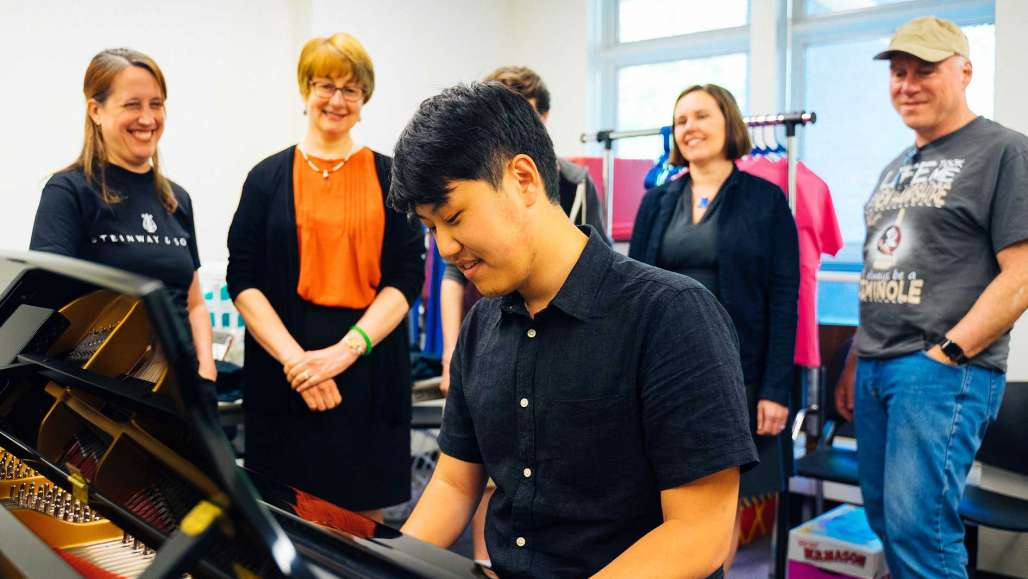 Keene State students can be even more jazzed now that they have four new Steinway pianos, owned by the College, to use for learning and performing.
This is made possible through the All-Steinway, All Together initiative, which is building an inventory of pianos to replace aging instruments through the generosity of supporters who give to the project. These four pianos were funded by the Putnam Foundation, Douglas Company, and an anonymous alumnus. Providing students with access to quality instruments is a critical step in delivering Keene State's conservatory-style music education.
The All-Steinway program began with loaned pianos from music festivals around New Hampshire. During the past several months, 349 Keene State students made use of the festival pianos. Community members, guest artists, and other college visitors also used the equipment.
With the delivery of new pianos, the 18 festival pianos are being delivered back to their summer locations at Tanglewood and other venues. In September, another delivery of 14 festival pianos will be made to Keene State to borrow for the academic year for students and guest performers.
What is the next step for All-Steinway, All Together? It's to raise money for the purchase of four more pianos. When the College completes its inventory goal, it will be the only New Hampshire college or university to become an All-Steinway school!
To give to the All-Steinway, All Together fund, visit www.keene.edu/featured/steinway/.
Related Stories