Keene State Professors Recognized for Excellence and Dedication to Students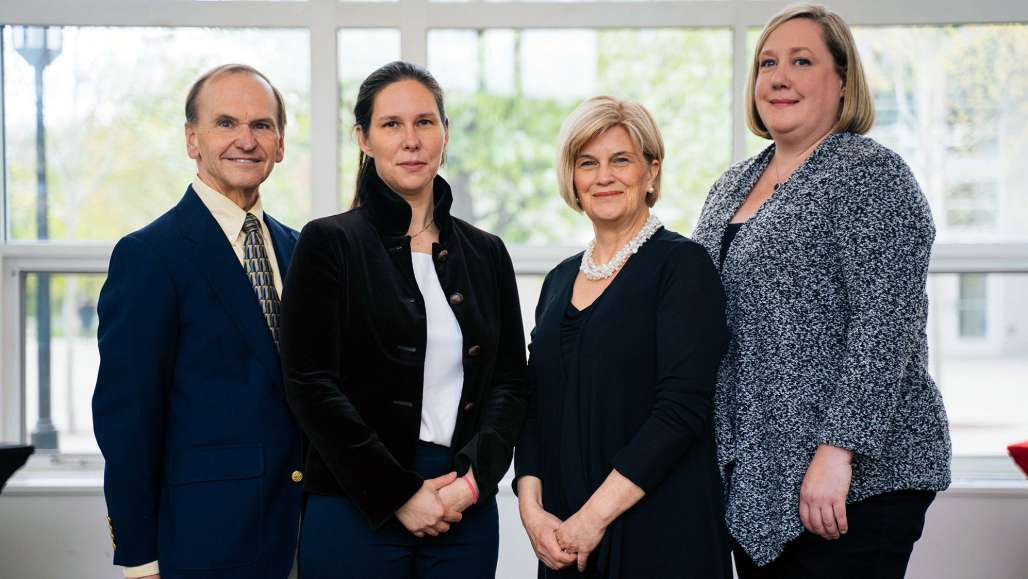 Keene State proudly recognizes professors who demonstrate excellence in, and commitment to, teaching, research, student support, and community. Honors include the 2019 Alumni Association Distinguished Teacher of the Year, Faculty Distinction in Research and Scholarship, Faculty Distinguished Service Award, and Excellence in Teaching Award for adjunct faculty. Students and KSC colleagues alike benefit from their amazing work and dedication.
The Alumni Association Distinguished Teacher Award is based upon a professor's excellence in classroom teaching, encouragement of critical and independent thinking, rapport with students in and out of the classroom, and effective student advising. Chemistry Professor Dr. Denise Junge was selected for the 2019 Distinguished Teacher Award for her sustained record of outstanding teaching, advising and commitment to the high-quality courses.
Dr. Junge is a committed and outstanding professor – she cares deeply about students and about excellence in teaching. For the 18 years she has taught at KSC, she has modeled outstanding teaching in her own classroom and lab to hundreds of students, and she has helped many students in her role as advisor and through steadfast leadership of the chemistry student group on campus.
The Faculty Distinction in Research and Scholarship Award for 2019 is awarded to Public Health Professor Dr. Meg Henning. Dr. Henning was recognized for her extraordinary record of scholarly work since her arrival at KSC in 2010. She focuses on public health/international health, maternal/child health, global education in higher education, and health disparities. Dr. Henning's initiatives result in evidence-supported programs that aim to improve the health of individuals and broader populations.
This year's Faculty Distinguished Service Award goes to Mathematics Professor Dr. Ockle Johnson. This award recognizes faculty members who serve the community above and beyond. Dr. Johnson is involved in the campus community when advising student groups, providing academic leadership, chairing the Mathematics Department and the college Senate, reviewing and sharing recommendations regarding the promotion and tenure of his peers, and more. Dr. Johnson puts students, colleagues and this community first.
Lastly, the Excellence in Teaching Award for adjunct faculty goes to Ms. Kathleen Fagley. Nominated by colleagues in the English department, she is recognized for her invaluable contributions, drawing on her professional experience as a published poet. Teaching Creative Non-fiction and Creative Writing, Ms. Fagley establishes an active and engaged writing community in her classroom. Students say her courses are rewarding and they are challenged to try new things.
Congratulations to these outstanding professors, and to students who have the opportunity to work with these Keene State community members.
Related Stories