Research Project Opens Up Future Career Path for Senior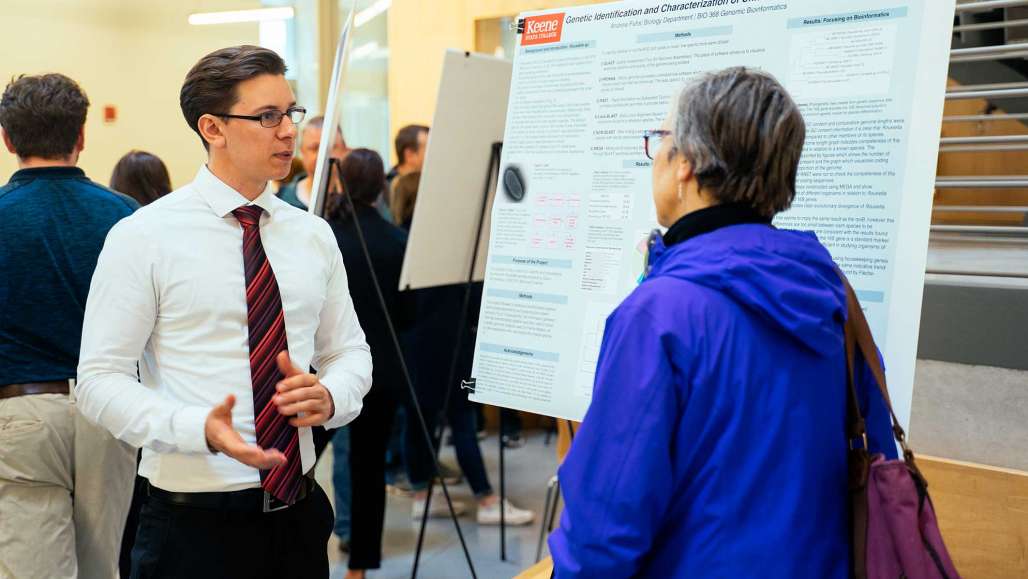 Graduating senior and biology major Andrew Fuhs found that student research was his ticket to exploring his interests, and even determining his future career path. Andrew, from Milford, NH, connected with professors who guided him throughout his undergraduate studies at Keene State.
During a recent poster presentation session for the School of Science, Sustainability and Health, Andrew shared his work in bioinformatics that led to the identification of a new species of bacteria. Biology professor Dr. Loren Launen led the class that resulted in this discovery. Andrew also worked closely with biology professor Dr. Jason Pellettieri in his laboratory.
In his junior year, Andrew approached chemistry professor Dr. Paul Baures to ask about research opportunities. Dr. Baures listened to Andrew's interests and personal goals to help him find a match. In this case, it was Dr. Baures's lab that was a good fit. Andrew says it was his research with Dr. Baures that helped him decide to pursue a career in biochemistry, with the goal of developing drugs that will treat disease. He collaborated with Dr. Baures on researching compounds that may slow the growth of cancer.
"Dr. Baures is a wonderful mentor. He is a great teacher who is truly excited about the material he teaches, which inspired me to get involved. He encourages students to push beyond their limits. The type of work I was doing in his lab was advanced, and he allowed me to try things I hadn't yet experienced."
Andrew's efforts extended beyond his academic pursuits. He served in leadership roles for the student organization KSC Republicans, and he served as a member of Alpha Sigma Phi. "College can seem intimidating, and you might worry about how you fit in. I found that being part of student clubs and organizations makes college seem more manageable, and it's a good way to make friends."
When asked what advice he would offer to high school students considering Keene State, he said, "Begin thinking about student research during your first year. There are many opportunities to do research, and professors are open to talking with you about it. I actually wish that I had an extra year in the lab." He added, "One of the most important things I learned from my efforts at Keene State is that you need to take charge of your life - if you want something, work hard; put your all into it, and you'll be rewarded."
Related Stories