Keene State Celebrates Earth Month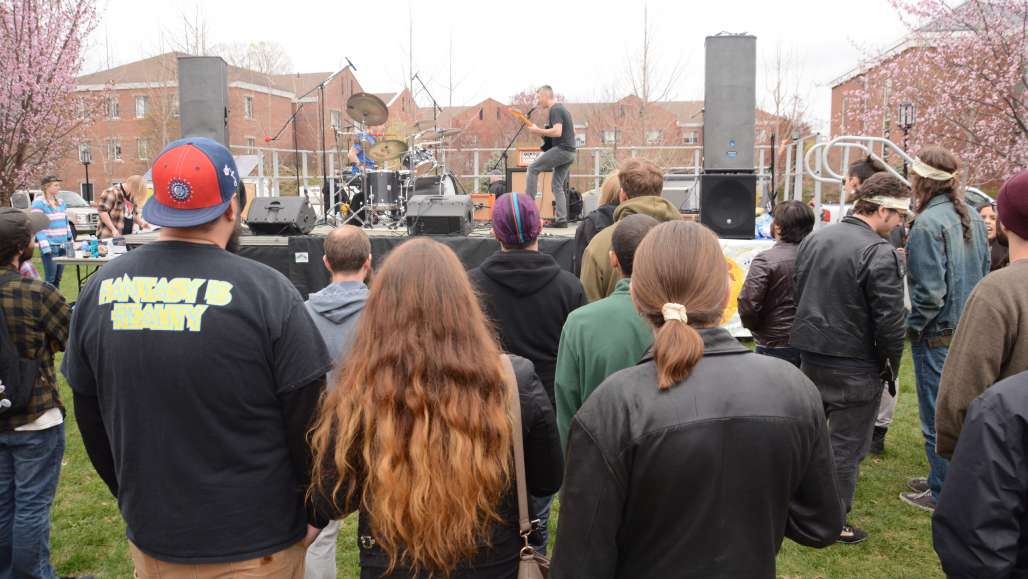 Keene State celebrates the Earth during the entire month of April. Cary Gaunt, director of sustainability at Keene State, said, "Earth day should be honored every day, but because people are so busy, we wanted to have multiple events so as many students can be involved as possible." The Office of Sustainability, in conjunction with the Eco-Reps and Campus Ecology, is sponsoring several events to celebrate Earth Month at Keene State.
Thursday, April 18 – The Eco-Reps, a group of students who provide peer education on ecology, hosted a Sustainability Tour. Julia Yates, an Eco-Rep who worked on the tour, said, "We take people through campus, showing them different areas we want to highlight in terms of sustainability and the environment." The sustainability tour took students and community members around campus showing off our academic commitments to sustainability, the different buildings that meet sustainable standards, the Ashuelot River, and the many unique trees on campus.
Tuesday, April 23 – Climate Action New Hampshire and Campus Ecology are hosting a free documentary screening titled "Paris to Pittsburgh" in Norma Walker Hall in the Alumni Center at 6:30 p.m. After the film, there will be a panel discussion on clean energy initiatives in New Hampshire and New England.
Wednesday, April 24 – The Office of Sustainability will celebrate Earth Month with a bike rodeo on Fiske Quad from 11 a.m. – 2 p.m. This event features the award-winning Green Bikes program, which loans out bicycles to the campus community, and highlights why using bikes is so important. Students will also have the chance to win a Green Bike in a raffle.
Saturday, April 27 – Campus Ecology will host Solar Fest on Oya Hill from 11 a.m. – 4 p.m. Solar Fest, an annual music festival run completely on solar power, was started by Campus Ecology in 1997. This year, the bands playing are alumni group Grey Haven, Keene State's own Afterimage, and West End Blend. The event will include local vendors, farmers, a clothing swap, and tie dying. Sara Olson, the vice president of Campus Ecology, said, "I think students should attend the event because it's incredibly fun with countless organizations and vendors that all promote sustainability."
Sunday, April 28 – The Eco-Reps will hold a campus cleanup event from 1-3 p.m. Participants will meet in the Student Center and assigned to teams with designated zones of campus to clean up. The team that collects the most trash and recycling will receive a prize. Julia Yates said, "I think it helps people see where the waste goes and why we should be making more of an effort to clean up our campus." If you're interested in participating in the campus cleanup, you can register your team in advance here or just show up the day of the event.
Sunday, April 28 – The Eco-Reps will screen Just Eat It, a documentary about food waste, at the Night Owl Café at 6 p.m. The event will feature games and trivia, a bake sale, and prizes.
– By Henry Iwanowicz '19
Related Stories