KSC Marks Opening of New Space Dedicated to Holocaust and Genocide Programs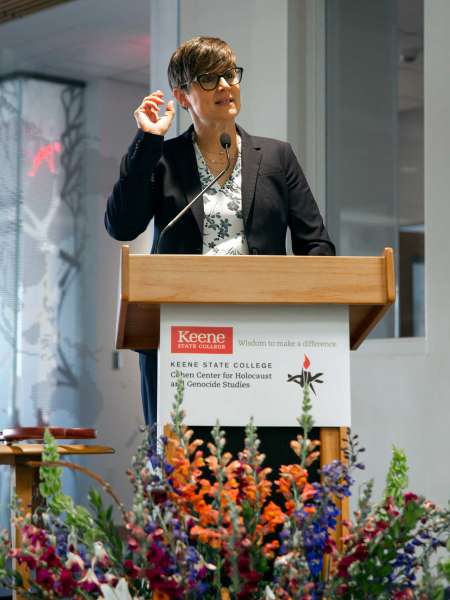 Keene State College marked the opening of an addition to the Mason Library that provides a work space for the Cohen Center for Holocaust and Genocide Studies and its academic degree program. The additional space, which opened on April 6, houses classroom, conference, office, and storage space for growing collections of documents and artifacts.
The Cohen Center is recognized as a Center of Excellence by the Jewish Foundation for the Righteous, and the undergraduate academic program in Holocaust and Genocide Studies is the only one of its kind in the United States.
The addition is a gift from Rick and Jan Cohen of Keene, longtime supporters of the Cohen Center and the Holocaust and Genocide Studies baccalaureate program.
"This is an opportunity to bring the Center and academic program together under the same roof to facilitate collaboration, research, social engagement, and community," said Jan Cohen.
The ribbon cutting ceremony included remarks from Jan Cohen, Keene State President Melinda Treadwell, Cohen Center Director Dr. Hank Knight, Cohen Professor of Holocaust and Genocide Studies Dr. James Waller, and New Hampshire State Senator Jay Kahn.
"We are deeply grateful to Rick and Jan Cohen for supporting Keene State College, and for their dedication to cultivating a lasting awareness and understanding of genocide and the Holocaust for people today, and generations to come," said President Treadwell.
The Cohen Center for Holocaust and Genocide Studies was founded in 1983 by Keene State Sociology Professor Charles Hildebrandt, whose mission, "To remember…and to teach" is embedded in the work taking place in the Center and the program today. The Holocaust and Genocide Studies Department was established in 2009.
To learn more about The Cohen Center for Holocaust and Genocide Studies, visit the Keene State College website, or learn about the Holocaust and Genocide Studies academic program.
Related Stories