Ski and Snowboard Club Volunteers at NH Winter Special Olympics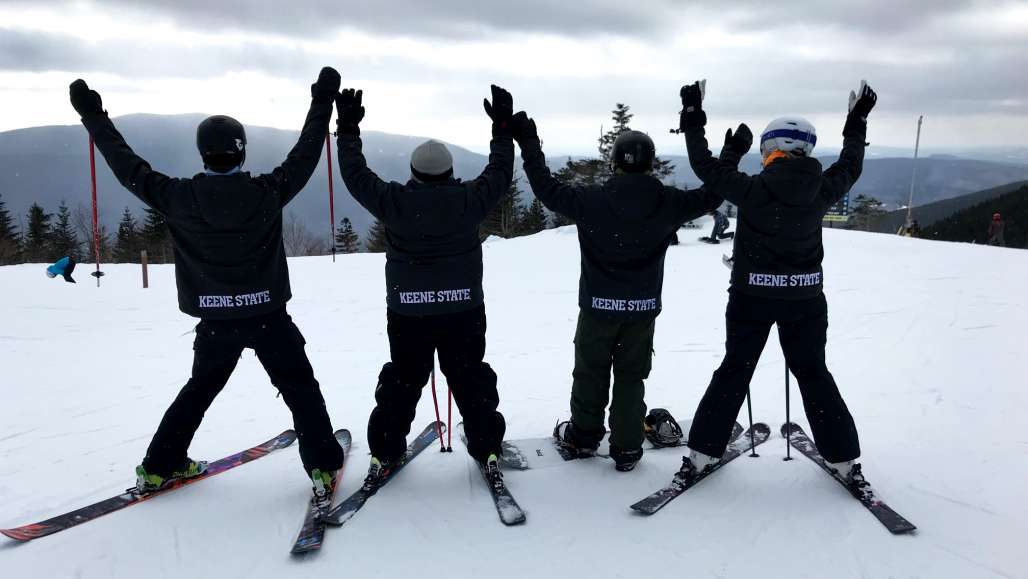 Keene is situated next to Mt. Monadnock – the most summited peak in the nation, and with just a short drive, skiers find their choice of mountains. Keene State students take advantage of their options for skiing in New Hampshire through a very active Ski and Snowboard Club, which also gives back to the community.
Earlier this month, club members traveled to Waterville Valley Resort to volunteer at the New Hampshire Winter Special Olympics. Held annually in the White Mountains, the New Hampshire Winter Special Olympics provides year-round sports training and athletic competition in a variety of Olympic-type sports for children and adults with intellectual disabilities. Keene State students Resa Barbieri '22, Ian Bohrmann '22, Gino Catruch '22, and Ryan Manz '19 were accompanied by Jennifer Drake-Deese, academic and career advisor, Bert Poirier, associate director of admissions, and Dr. Scott Strong, associate professor of biology.
"The students were simply amazing! According to the organizers, they made a huge impact on the games, but more importantly on the participants themselves. Needless to say, the three of us as advisors were gleaming with pride," said Bert Poirier.
"Volunteering for the Special Olympics was a great opportunity," said Ryan, a business management major. "We got to meet a lot of great people and it was great watching the athletes compete. We were very glad we could be a part of it and can't wait for the club to participate next year."
"It is our hope and expectation that volunteering at the Winter Special Olympics will become an annual Keene State Ski and Snowboard Club tradition," added Dr. Strong. "Based upon the tremendous success of our first year, we can only anticipate great things to come!"
Students interested in skiing and snowboarding are welcome to join the Ski and Snowboard Club. Keene is a short distance away from many popular ski resorts in the area, including Granite Gorge, Crotched Mountain Ski, Mount Sunapee Resort, Mount Snow, Stratton Mountain Resort, Okemo Mountain Resort, Magic Mountain Ski Area, and many more.
Related Stories