Business Management Students Coach Local Business Owner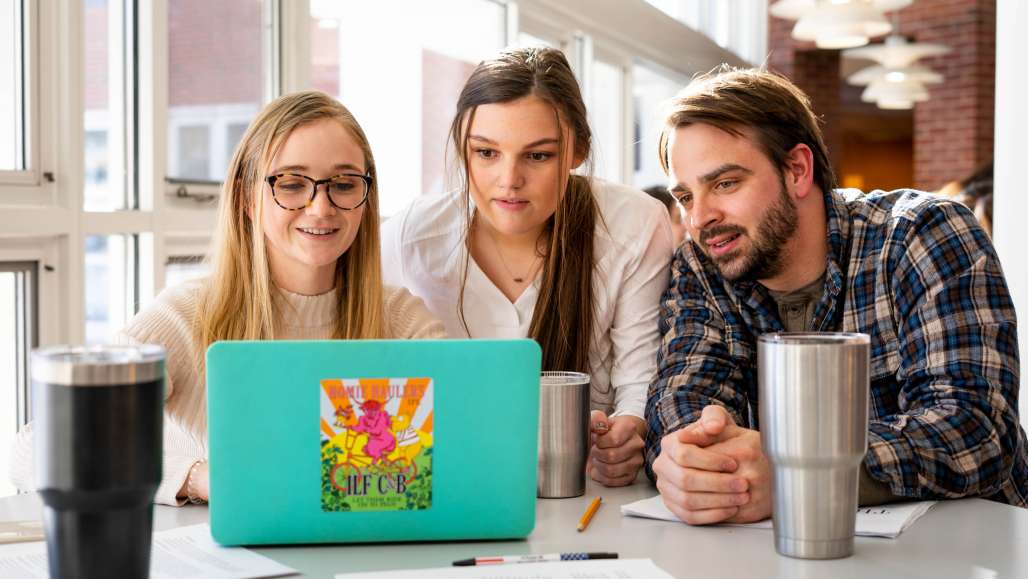 Keene State's Business Management Program prepares graduates for a multitude of careers in many different industries. Mary Grace Barada '19, Gwen Franklin '19, and Josh Aldrich '19 all chose this major and worked together on a client project last semester for the Advertising & Promotions course.
They worked with Thrive, a human resources outsourcing and consulting company based in Brattleboro, Vermont. Mary Grace, Gwen, and Josh met with owner Jennifer Jacobs to learn about her business, goals, and the difficulty she was having attracting new clients.
"The problem she was running into was a lot of the time people would only hire her when they had a really big problem," said Mary Grace. "She wanted more people who wanted to remodel their human resources practices."
The students created a three-pronged advocacy plan for her to leverage her network to expand her business through a stronger presence on LinkedIn, client referrals, and testimonials. Jennifer also had homework of her own; students tasked her with developing a clear and concise elevator pitch.
"I really loved the fact that we got to meet with her multiple times and got to have very casual but professional conversations about what she wanted to accomplish," added Mary Grace. "I felt very appreciated in our conversations. She wanted our help and guidance, and that was really awesome."
Thrive immediately put into practice the approach the business management students proposed. "Jennifer is posting to LinkedIn and doing things that we advised her to do. It's really cool to see that we actually did put in a meaningful contribution and her business is doing well because of it," said Gwen.
One of the most useful aspects of the project was getting to apply lessons learned in the classroom right away to a real-world scenario. "A lot of the classes I've taken it's so much information upfront and retaining it as a skillset to pull out of your toolbox later is rough," said Josh. "This class project was great for problem solving, team building, and us working together as a team to solve a real issue – that was really beneficial."
The students all agreed that they'd found a home within the Business Management Program. The professors go above and beyond in the classroom and are available outside of class time. They ensure that students get the hands-on, real-world learning experiences needed to hone their skills and boost their confidence through internship and client projects like this.
Overall, partnering with Thrive is one of the most rewarding and inspiring projects these students have worked on in the Business Management Program, they said. It has prepared them to take on new challenges and adventures after graduation.
Related Stories