Student Choral Singers Grow Their Skills at National Conference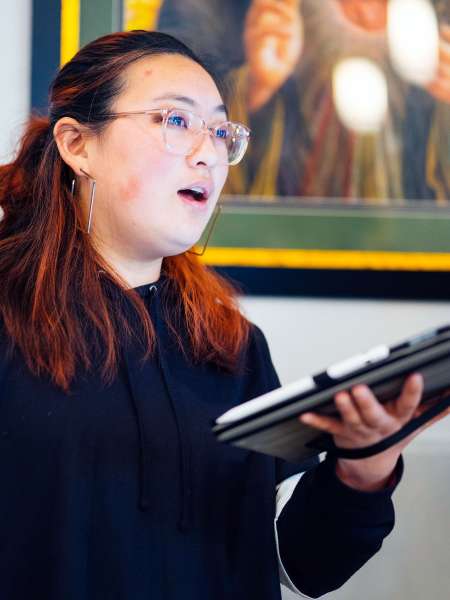 Five Keene State students who are members of the student chapter of the American Choral Directors Association attended the ACDA National Conference earlier this winter. The American Choral Directors Conference offers a comprehensive educational and performance experience for choral music professionals to enhance their skill sets in the area of rehearsal techniques, literature, pedagogy, and technology.
Katherine Neary, B.M. Music Education 20' described the conference as "an amazing experience of education and musical experience. I got to go to some interesting workshops on belting, movement for the musician, and choral assessment and I got some great insight on all three of these topics. One of my highlights is definitely the final concert we all attended as it was the world premiere of A Silence Haunts Me and it will be a performance I'll never forget."
Grant Desmaris, B.M. Music Education 21' connected most with the session focused on "how to include transgender students in a choir taking into consideration pedagogical concerns. It was very informative on how everyone can be included in a choir while also being considerate of others and keeping their voices healthy."
The conference included performances from choirs around the world featuring a variety of performance genres.
In addition to the educational sessions and choral master classes and performances, choral reading sessions offer the opportunity for attendees to learn new music in my area of teaching and performance. Sarah Ames, B.A. Music Therapy, and individualized major at the College, reported that the "concert programming was the best I've ever seen and can only hope to aspire to such greatness. I gained exciting ideas to share with my current and future choir communities."
Student attendees will present reflections about the conference event as part of the ongoing S.I.N.G. Series on Thursday, March 21, 2019 at 8:00 PM in Redfern Arts Center Room 118. This free event is open to all students, faculty, and community members.
Related Stories