Angela Jenks: At Home in the Art & Design Department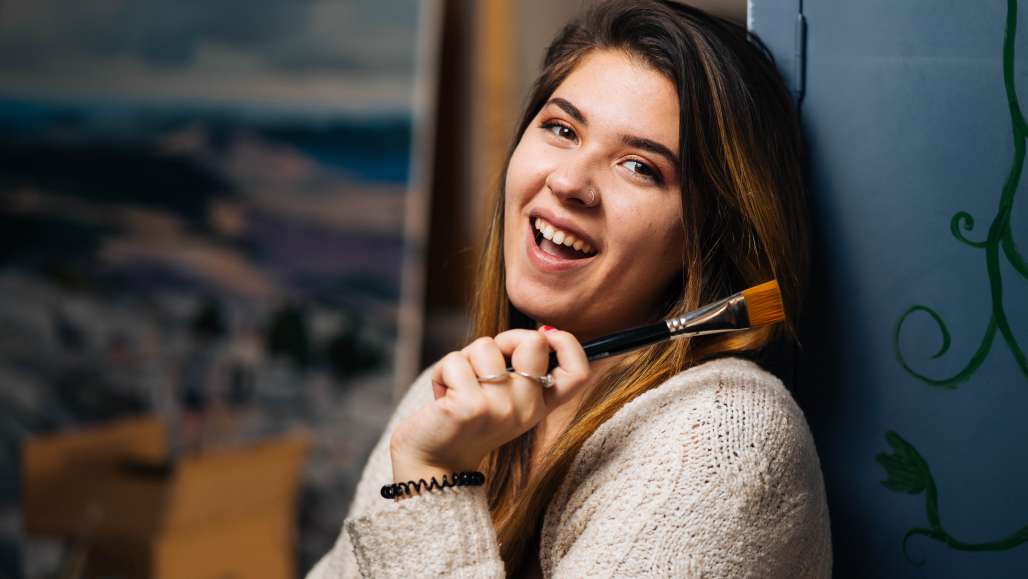 When it comes to art, senior Angela Jenks has a broad focus. She'll graduate this spring with a Bachelor of Fine Arts degree in both studio art and graphic design. Her senior project features sculpture, paintings, and digital drawings. And her work will be on display at both the Graphic Design Portfolio Day and the Thorne-Sagendorph Art Gallery's annual exhibition of work by senior art majors.
"I'm all over the place," she says. "In high school, I did ceramics, and then sculpture, painting, drawing. So coming here, I said, 'Heck, yeah, I have to do everything.'"
Back in high school in her hometown of Belchertown, Massachusetts, Angela knew she wanted to pursue art. She opted for Keene State over art college after visiting the campus. "As soon as I took a tour I knew this was the place I wanted to be," she says.
How's it worked out? Fast forward, and:
She's gained four years of work experience through her campus job as a graphic designer in the Office of Student Involvement and other College departments.
She's a teaching assistant in a class called Color Design and Mural Painting.
She's served as president of the Design Collective – the student graphic design organization.
She's led student activities like the hugely popular Painting Night.
As a BFA student, she has her own art studio in the Redfern Arts Center.
She's an Art Department tour guide for prospective students on Admitted Students Days.
She benefited from courses in other departments that have enhanced her arts education.
In other words, she's enjoyed all the advantages of a terrific arts education – along with the qualities that are unique to Keene State. Key among those: People at Keene State are friendly, welcoming, and helpful. "When you come on this campus," she says, "everybody want to know, 'Oh, how can I help you?' Everybody's really friendly."
Keene State is a place to find your niche, she adds, whatever it might be. She found hers in the art studio, in the graphic design classroom, in the Student Center – and in the campus community. After she graduates, she plans to work as a graphic designer for a year or so, and then apply to graduate Master of Fine Arts programs. She's thinking she'd like to teach college-level art, but she'll see where her path takes her.
Her advice for incoming students? "Try out different things and go to different events. College is your time to broaden who you are as a person and experience new things."
Related Stories