'Magnificent 7' Continues China Poetry Exchange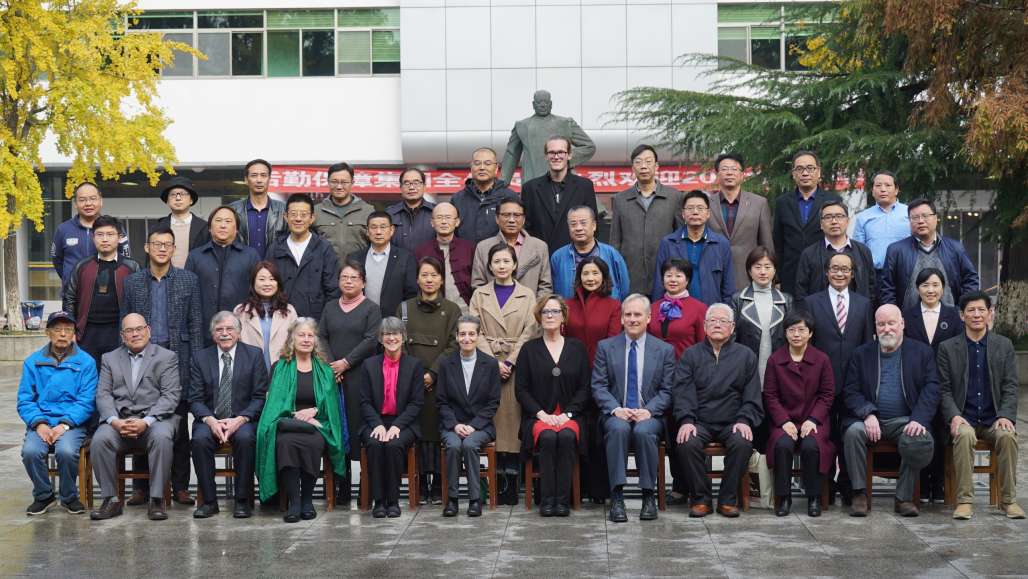 Four Keene State faculty/staff members, along with three Monadnock area poets, journeyed to China last month as part of a continuing exchange that will provide more opportunities in the future for students to interact with poets and poetry from that country.
"It was almost like a state visit," says Rodney Obien, the archivist at the College's Mason Library, recounting how important city and town officials came out to formally greet the group as they toured. Obien was joined by Mason Library Dean Celia Rabinowitz, English Professor Mark Long, and journalism lecturer Rodger Martin, along with local poets Maura MacNeil, Claire Golding, and Susan Roney-O'Brien; the group was dubbed "The Magnificent Seven" after the recently remade Western.
Poetry Bridging Continents: Symposium on Chinese and /American Pastoral Poetry, held at Yancheng Teachers University November 10-13, followed a similar symposium held a year ago at Keene State. In October 2017, Chinese pastoral poets joined Monadnock pastoral poets at Keene State for The Magic of Monadnock: Poetry Bridging Continents.
Over 50 Keene State students and faculty came together that year with the local poets and visiting Chinese poets to create a linked verse and art wall hangings, notes Martin, who is a poet as well as a journalist. That week was so successful, he says, that it led to the November event – and more for the future. "We are now creating an every-other-year exchange to bring Chinese poets and calligraphers to Monadnock region colleges," he says.
Plans are under way to bring poets and scholars from China to New England College in Henniker next year.
This year's symposium included readings, presentations, and formal and informal conversations with poets, academics, and students, says Obien. Unlike US poetry readings, Chinese readings can be formal and orchestrated, with music playing in the background and a chorus in matching outfits repeating lines of verse.
The Chinese people, says Obien, have tremendous respect for the United States and its culture, particularly poetry. "They really love Henry David Thoreau," he says. "For a lot of Chinese people, he's a sage on how to live the simple life."
Rabinowitz presented letters from Keene State President Melinda Treadwell and Global Education Office Director Skye Stephenson to the president of Yancheng Teachers University. "I know that the Keene State faculty on the trip will find many ways to incorporate our experiences into our teaching and other activities," she says. "We are looking forward to thinking about how we may also create additional opportunities for Keene State students to engage in dialogues, cultural exchange, and perhaps educational experiences with our friends at Yancheng."
In addition to participating in symposium events, the Keene contingent traveled around Jiangsu province, visiting imperial gardens and a national park and twice crossing the Yangtze River. They were well fed: every meal was a banquet, Obien remembers, with a big spread laid out on a huge lazy Susan.
The poets among the seven were inspired to write by the experience, he adds – even on the tour bus, they were jotting in their notebooks.
"If their intent was to impress us," Obien says of the Chinese organizers of the symposium, "we were impressed, and it's hard not to be. You're kind of bowled over by the poetry, calligraphy, music, history, and just the scale of things."
Related Stories