Keene State Students Volunteer Time to Fight Hunger and Homelessness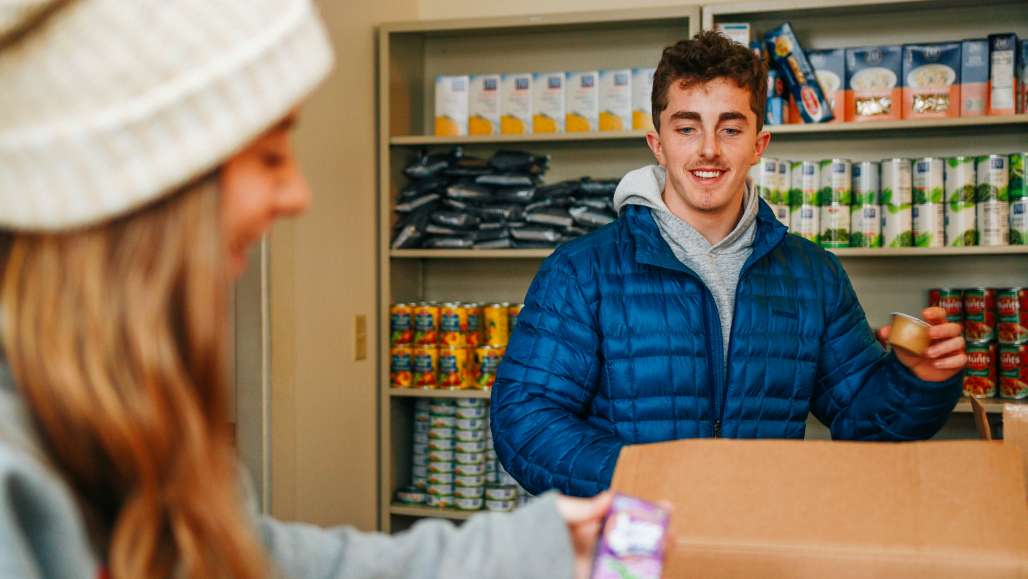 Throughout the school year, many Keene State student organizations participate in national awareness events and initiatives to benefit the local community. Students at Keene State recently volunteered their time with The Hungry Owl – the College's food pantry – and Habitat for Humanity to fight food insecurity and poverty during Hunger and Homelessness week.
Founded in the Spring 2018 semester, The Hungry Owl provides Keene State students, staff, and faculty with free food. The organization held an open house and tabled throughout the week to raise awareness of their services.
"Exposure is the biggest hurdle we face as a new organization," said Max Foisey, a senior from Concord, NH and one of The Hungry Owl founders. "This week was the perfect opportunity to let the community know who we are, what we do, when we're open, and why we do it."
Max said he is concerned students don't use the pantry because they feel ashamed facing food insecurity. "People tell us they don't use our services because they are afraid of seeing their friends or classmates. We don't think you should you think less of somebody because they don't have enough to eat. As an organization, we fight food insecurity and also hope to dispel the stigma surrounding it."
Max said the open house and tabling event helped the organization share their most recent changes and additions to the pantry. The Hungry Owl recently received its first donation from the New Hampshire Food Bank, as well as a contribution from a private donor.
"We're glad to see more organizations and individuals connecting with us and supporting our efforts. Because of them, The Hungry Owl has more brands and types of food than ever before, so we're better able to meet the wants and needs of our users."
During Hunger and Homelessness Week, Habitat for Humanity brought back their volunteer event to make peanut butter and jelly sandwiches to benefit the Hundred Nights Shelter in Keene. Habitat for Humanity also hosted a poverty simulation.
"Many of the families we build houses for live in homeless shelters," said Jordan Clauson, a senior from Westfield, MA and Chapter President of Habitat for Humanity. "Making PB&J sandwiches is a great way for the Keene State community to come together to help these families during their transitional phases."
The poverty simulation placed students in the role of an impoverished family for a month. Students must figure out how to manage finances and their health in order to take care of their families. "The simulation brings awareness to what living in poverty is like while highlighting the complexity of the issues families face day to day," said Jordan.
Related Stories