Women's & Gender Studies Coursework Speaks to Student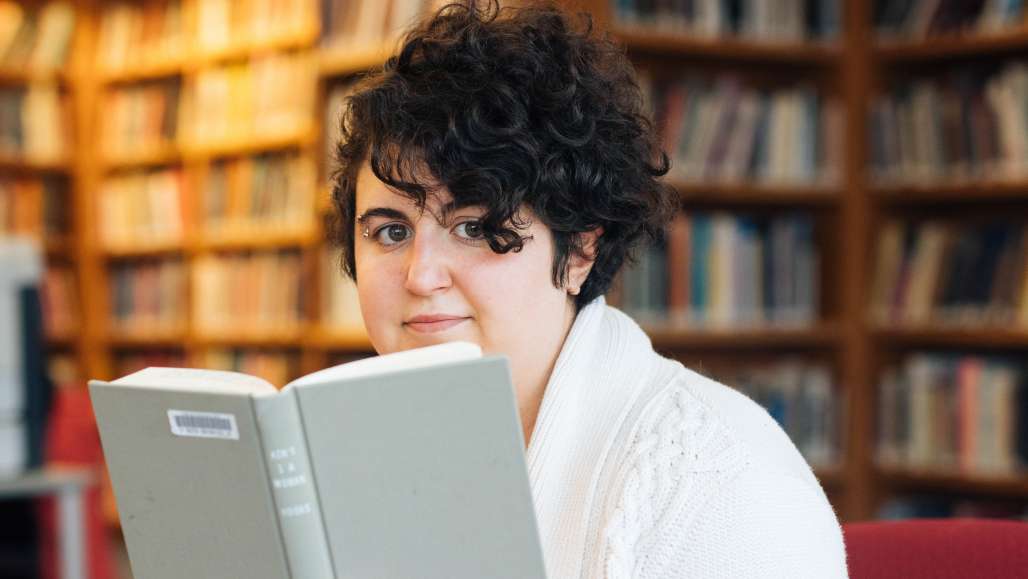 From exploring the world to exploring her personal and career interests, Atticus Caruso is turning her passion into her life work.
Atticus, a nontraditional student at Keene State, studied psychology at Green Mountain College in Poultney, Vermont. After completing her studies there and taking a year off to work, she discovered her passion for learning about underrepresented groups, which inspired her to go back to school to pursue another degree, this one in women's and gender studies.
"I started reading a lot of feminist literature, and really discovered that I had a passion for diversity and inclusion and the experiences of marginalized groups of people," she says.
Atticus likes the major because the readings and the work feel relevant to her everyday life. She also enjoys the candid discussions that she is able to have with her peers. "We're able to have really intellectually stimulating yet vulnerable conversations about our role in rape culture, for example," she says, "not just as people studying it but as people who are affected by it and are living it."
As requirement for Professor Patricia Pedroza Gonzalez's Feminist Practices class, she recently enlarged the conversation to include the whole college and Keene community. She hosted a public reading of select works by bell hooks, a feminist writer who uses a lower-case pen name. Called Love and Change, the event included readings of three chapters from two books by bell hooks, followed by a discussion of love ethic and how it relates to social justice. As defined by hooks, "love ethic" means "that we utilize all dimensions of love – 'care, commitment, trust, responsibility, respect and knowledge' – in our everyday lives."
The participants also discussed how love ethic can be incorporated into the Keene State community.
"I love her voice, the way she writes," Atticus says of hooks. "I was very moved by the way she defines love and love ethic in her work. It's changed my world view a lot and really impacted me as a person."
Atticus says she hopes attendees were inspired to make positive changes in their lives and in their perception of others.
"I hope people feel motivated to get more involved in what's going on in our society. I hope this motivates the majority of people to want to form an alliance with marginalized groups of people and help fight for their rights," she says.
Atticus owes some of her passion for equality to her world experience. Because her father is an international lawyer, she has lived all over the world – in Scotland, Ukraine, Thailand, and, in the US, in Mississippi, Florida, Vermont, and now New Hampshire.
"Living in a place where things are very different is a very immersive reminder that your way is not the only way," she says. "It gets you to think a bit more and be more open-minded about different perspectives and experiences."
In the near future, Atticus hopes to pursue a master's degree in either secondary education or clinical psychology. Either way, Atticus hopes to pursue a career in anti-racism that would center on either counseling or research work.
– by Rachel Vitello
Rachel Vitello is a Keene State College junior majoring in journalism. She is doing an internship with the Marketing and Communications Department this semester.
Related Stories