Momentum: A Night for Gratitude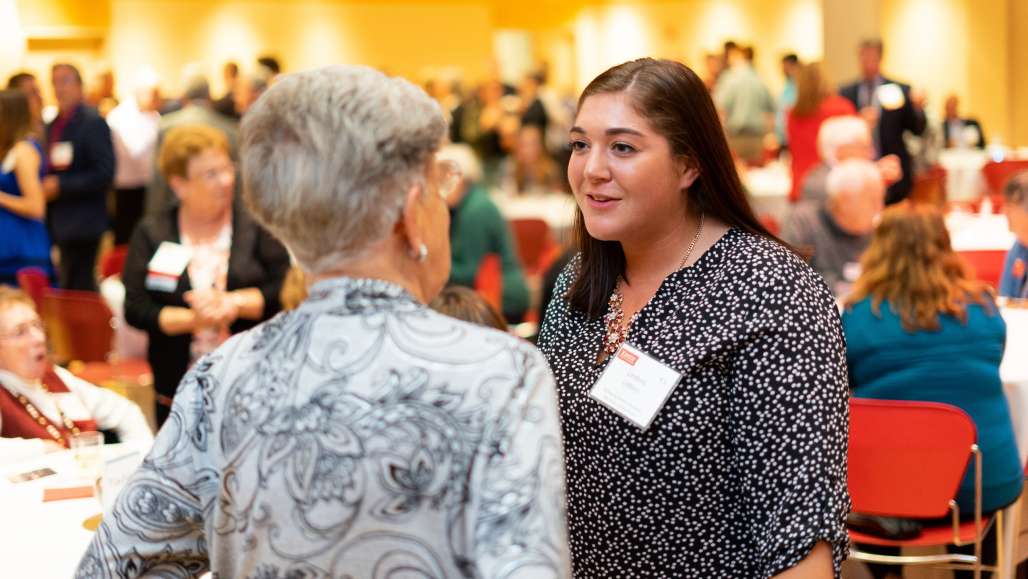 Keene State students had a chance to say Thank You to alumni and friends who have made donations to benefit scholarships and student success. On October 5, the College celebrated Momentum, a gathering held annually to recognize donors and give them an opportunity to meet some of the young people they have helped through their generosity.
This year's Momentum, held in the Mabel Brown Room of the Student Center, featured performances from music and theatre and dance students. Kirsten Becker '20 of Charlestown, New Hampshire, provided piano music to open the program.
The standing-room-only crowd was treated to a scene from The Butterfly's Evil Spell, a play by Spanish poet and playwright Federico Garcia Lorca put on by students in the Theatre and Dance Department and directed by senior Jacob Lavoie.
Lavoie also spoke at the event, saying "I would like to emphasize how scholarships have enabled me to focus on academic success." Because of scholarship aid, he said, he has not had to spend all of his free time working part-time jobs. "That is such a gift because it has allowed me to focus on my academic and artistic growth," he said.
English major Sonja Martineau '19 also spoke to the gathered students and contributors. "It is difficult to think of graduation now," she said, "as my time here has provided so many enriching experiences while allowing me to work with people of diverse ages, talents, and interests. Receiving the Harry C. Tebbetts scholarship the last two semesters has made it possible for me to graduate in May 2019, and I remain eternally grateful to all who have made this possible."
Related Stories