Vincent Russell '50 cites education as reason for professional success, inspiration for major gift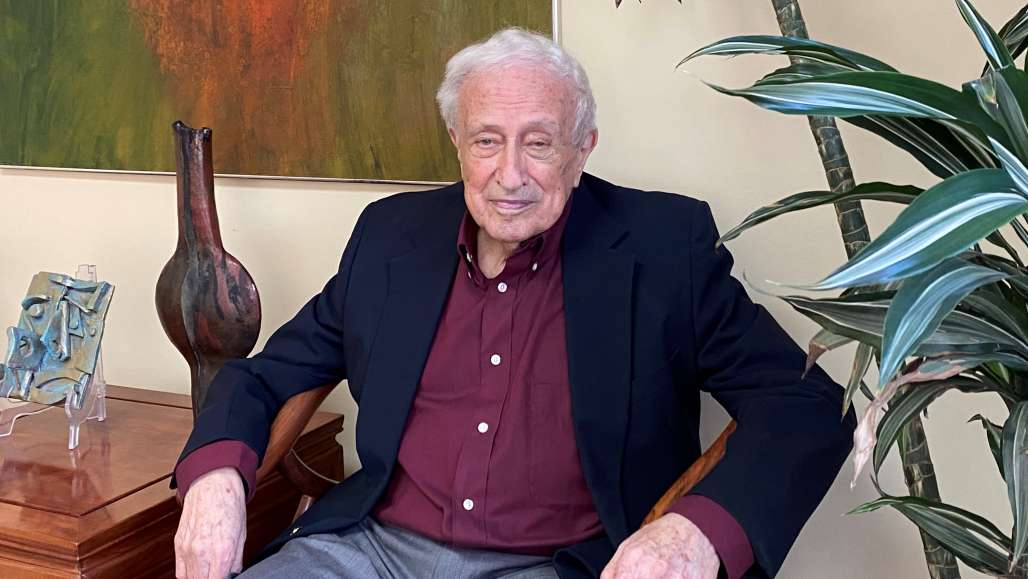 Spent career empowering teachers, union movements
Vincent D. Russell began his Keene State College education 76 years ago as an industrial arts major. He soon met Frederick J. Simmons, a beloved professor, and discovered "the beauty" of liberal arts for its ability to rouse his curiosity and challenge his intellect.
Now, all these years later, Russell is making a personal return on his education by endowing to Keene State a $1 million gift to support experiential learning scholarships and the college's visiting faculty program.
My gift to the college is tied to the liberal arts because that is the best education a person can receive. College for me opened an entire world, and it changed me. It positioned me for who and what I became."

– Vincent D. Russell
The inaugural Vincent D. Russell Experiential Learning Award and Visiting Scholars Award will be selected beginning with the 2023-24 academic year and occur annually, said Veronica Rosa, Keene State's vice president for advancement.
"Vincent's love for education and for Keene State is genuine," Rosa said. "You see it across all aspects of his amazing life and career. He is not shy about telling others how he felt wholly prepared to compete and thrive in the military and in helping to grow the nation's second-largest teacher's labor union because of his education here."
Russell grew up in Troy, New Hampshire, part of a prominent Monadnock Region family, and attended local schools before enrolling at Keene State. He had a successful stint in the military and a long, distinguished career as a field director for the American Federation of Teachers at a time fraught with tumult as demonstrations and strikes raged. But it was also a time marked by massive union-membership growth among teachers.
He has neither forgotten, nor wavered in his belief that his Keene State education shaped his personal life and his professional career in profound ways.
"I wanted a liberal arts education," Russell said. "My gift to the college is tied to the liberal arts because that is the best education a person can receive. … College for me opened an entire world, and it changed me. It positioned me for who and what I became. I want to impact the lives of as many students as possible through my gift to Keene State."
Today, Russell, 93, lives in Bowie, Maryland, in a home filled with pieces of his considerable art collection — paintings and sculptures, primarily.
Russell is blessed, he said, with a memory that allows him to recall in vividness and detail so much of his past, including his childhood. He is a thinker, well read, and believes deeply in the enduring value of his work, it being broader than protests and politics and bargaining for better wages and benefits.
"In my work, I was able to go around the country telling people to break the rules," he said playfully, recalling his days of supporting teachers, organizing unions, and defying judges, if that is what it took.
But big picture, he added, "It is about strengthening education for everyone."
Russell was tenacious by reputation, and highly regarded not only for his ability to skillfully assess contentious situations but also for offering creative solutions, especially when local and state officials found themselves at an impasse.
Just 17 at the time, Russell enrolled at Keene State in 1946. All but five of the male enrollees that year, Russell included, were veterans getting GI Bill assistance. The Servicemen's Readjustment Act of 1944, as the GI Bill was formally known, aimed to provide benefits for some returning World War II veterans.
Russell pledged Kappa Delta Phi and lived in the fraternity's college-owned house, then located where Mason Library is today.
In 1944, Russell and his Kappa Delta Phi brother, Donald Averill, created "The Monadnock," which is now "The Equinox," the Keene State student-run newspaper. At the time, Russell noted, the paper was produced without college funding, but with "sponsorships from the local business community that we went out and secured."
Soon thereafter, President Lloyd P. Young, a strong advocate for the paper, directed funds to help support and sustain the student-run newspaper.
Keene State College President Melinda Treadwell said Russell's gift to the college is emblematic of the enduring value of a public liberal arts education.
"Vincent's life work has had an enormous impact on so many," she said. "His gift to Keene State will directly support student and faculty dedication to a liberal arts education as a foundation for a long life filled with meaning and purpose."
Related Stories