Professional Dancer and Keene State Grad Returns to Inspire Students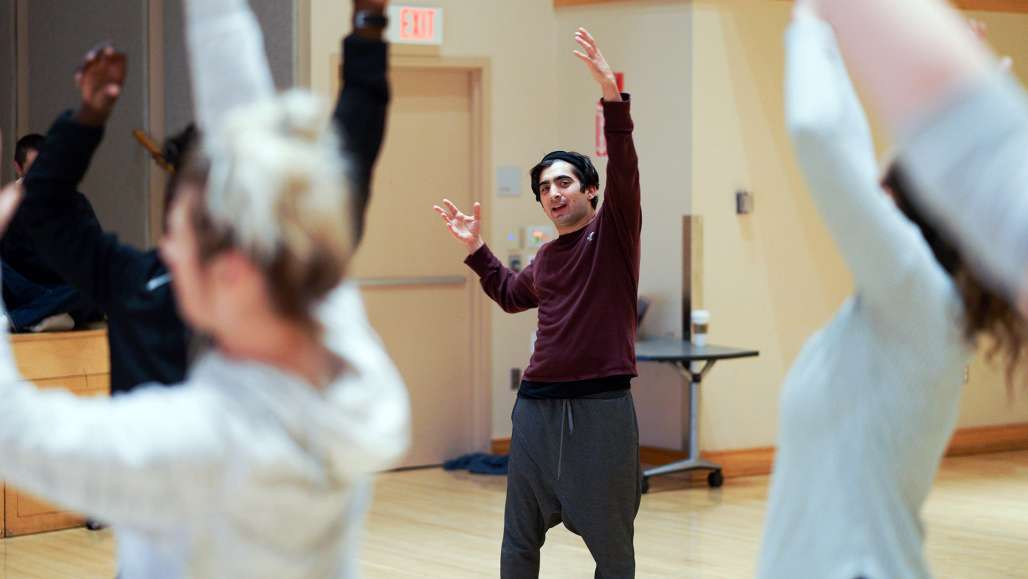 Students studying at Keene State had the opportunity to work with professional dancer Alexander Davis '14 in September as part of his artist-in-residence role at Keene State's Redfern Arts Center. Throughout the week, Davis worked with students in a variety of artistic mediums, from textiles and creative writing to dance, leading them in self-discovery activities.
Davis, who duel degreed in theatre and dance and English, continues a successful career that started with his graduation. Davis has formed Alexander Davis Dance, a platform for his collaborations and performance works. He is also a company member with Boston's Urbanity Dance and is a guest artist with Peter Dimuro's Public Displays of Motion.
During his workshops, panel discussion, and crafting session, Davis got to know students, encouraging them to ask questions, explore their identity as an artist, and discover their unique passions. In the masterclass with choreography students, Davis shared his background as a writer and dancer through creative writing and improv exercises.
"Direct contact with the theatre and dance students was an important part of this residency program," said Davis. "As a graduate of the department, to be able to come back and share with students what's going on in the outside world and help them formulate their own path for the future is incredibly rewarding. Visiting artists were very formative for me as a student. I'm telling the students to stay in touch, and I mean it – I want them to reach out to me. Some of them are closer to graduation than others, so how can I help them figure out what's next?"
Shannon Mayers, director of the Redfern Arts Center, got to know Davis while he was a student at Keene State. "Alex always drew my attention as a passionate and energetic student of the arts and humanities," she said. "He embraced all that a college experience could give him, while developing an exciting creative identity and aesthetic."
"Alex delivered transformative wisdom that left me hungry for more," said Diana Duffy, a masterclass dance student. "He shared his stunning insights to emerging artists, with the gusto of one embedded in the creative process. That Alex is one of Keene State's own made his residency here both meaningful and real. I am grateful to have been his student – even for a few hours."
"I stayed friends with Alex after he graduated and was thrilled to see him once again embrace the Boston arts scene as a dancer, actor, teacher, and fiber artist," added Mayers. "I felt that it was important for the Redfern to bring this exciting, young alumnus back to campus so that our community can enjoy and learn from this dynamic and forward-thinking artist."
Davis' residency will continue in the spring when he returns to curate an exhibition of fiber art from local artists, as well as to premiere an original dance performance. While he was on campus, he interviewed and recorded students speaking about their experiences at Keene State, what they miss from home, and how their identify shifts as they progress through college. "Students will be able to hear their voices in the piece," said Davis. "They'll be able to see how they inspired the movement and the text in the actual performance."
Tickets to see Alexander Davis Dance on Thursday, March 30, 2019 are available now through the Redfern Arts Center.
Related Stories